If you are teaching nouns in 1st grade, after teaching students what a noun is, the next mini lesson lesson we teach is usually about sorting the different kinds of nouns.
In this second post about Nouns, we'll look at my ideas, activities, and anchor charts to make your sorting nouns lessons a breeze!
---
➽ For teaching singular/plural and common/proper nouns click here.
➽ For teaching possessive nouns click here.
---
Lesson 2 – I can sort nouns into categories
This is the lesson in which you'll teach your students to sort nouns into the categories of people, animals, places, and things. Many teachers use "ideas" as a category, I usually don't.
The Prep
You can prepare for this lesson by getting an anchor chart ready. As you can see, I have made one with the four categories we want our students to use, and I have a little bucket in which to place words that are not nouns.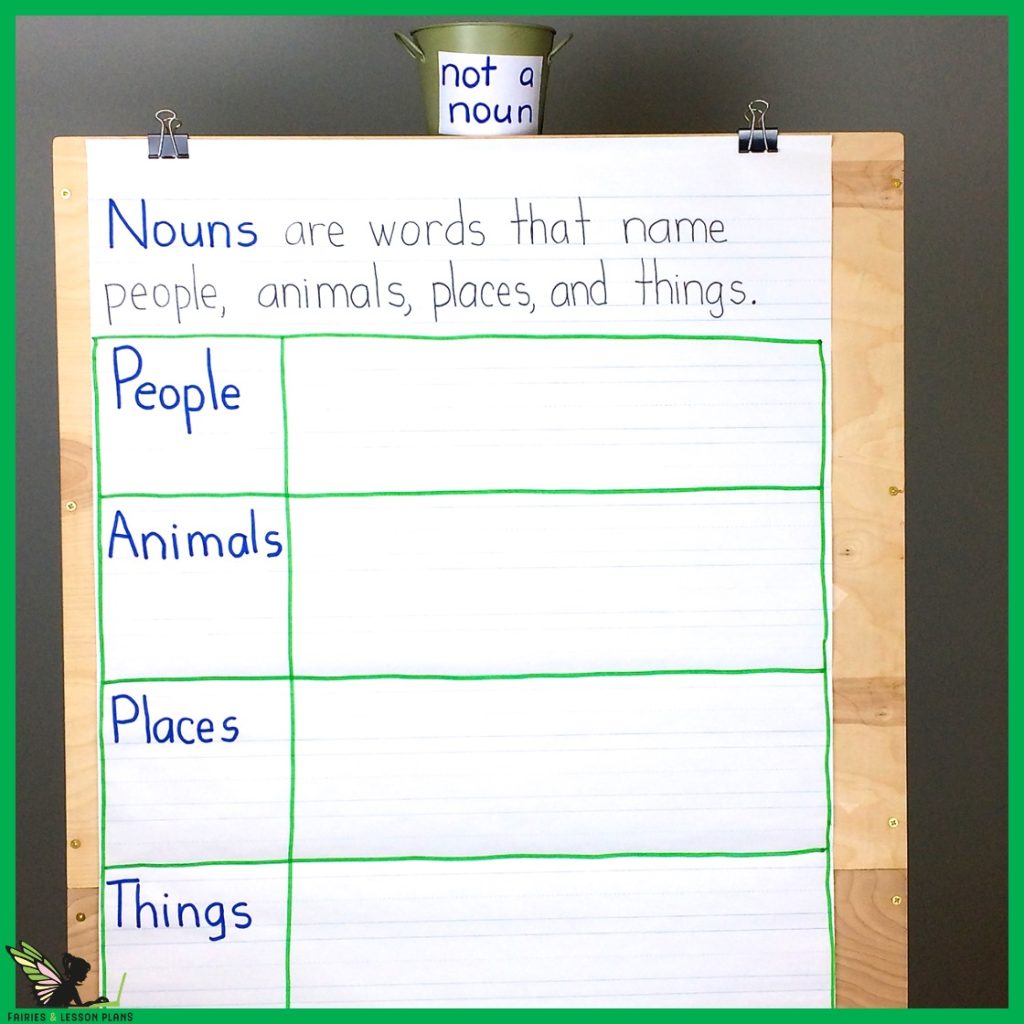 Also, make plenty of cards with nouns in each category, as well as other words that are not nouns.
*TIP

Give the cards to students as they walk into the classroom in the morning, and ask them to place the cards in the correct place in your anchor chart.
You can have a student helper stand by the chart to give directions so you don't become tied up. This is a HUGE time saving trick because your chart will be ready when you start your mini lesson!
The Noun Sorting Mini Lesson
Start with a quick review of what was learned about nouns in the previous lesson. You can use some of the cards and also the definition on the anchor chart.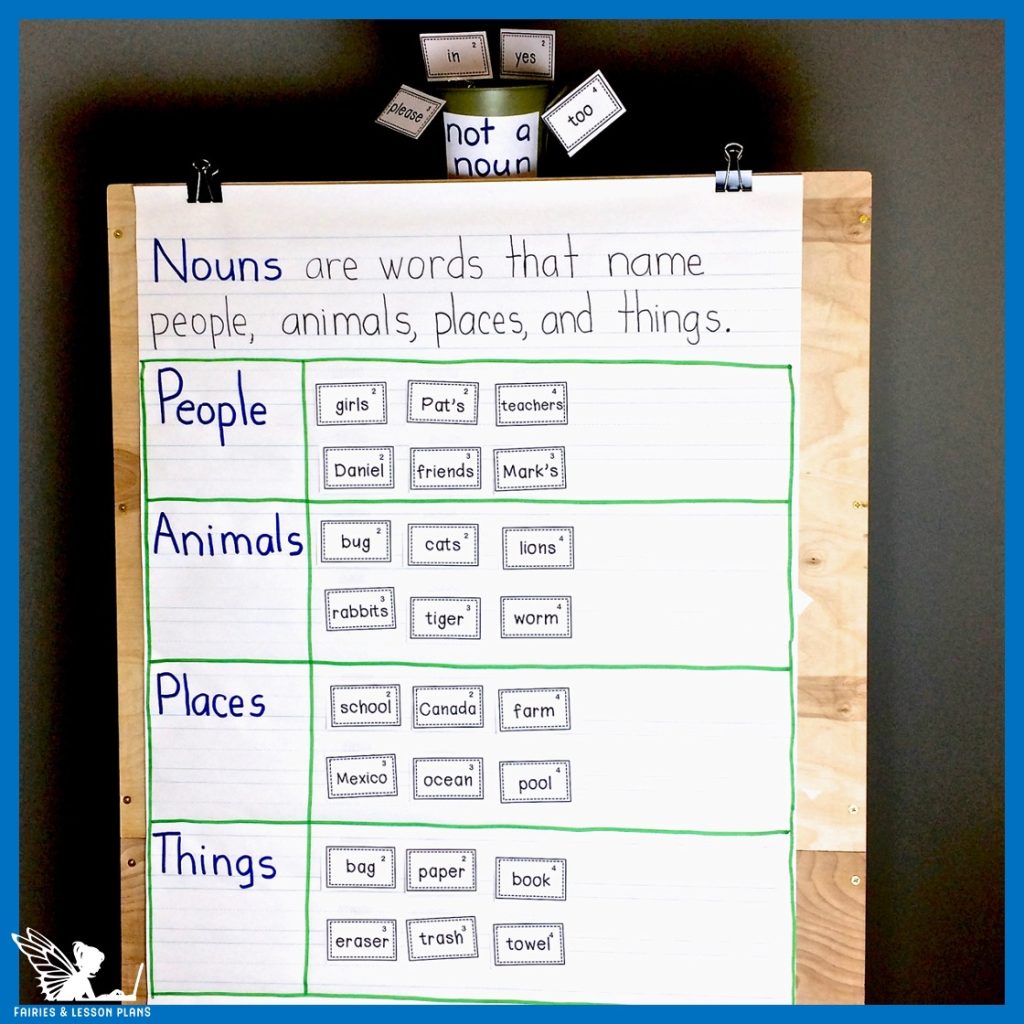 Hold a card: "Tiger is a noun because it is the name of an animal."

Hold another card: "Run is not a noun because it doesn't name a person, an animal, a place, or a thing."
Next, have your students turn and talk to each other about some of the words in each category. Let them choose whatever card they want, but make sure they are saying something like:
"_____ is a noun because it is the name of a ____"

or

"_____ is not a noun because it is not the name of a person, place, animal, or thing."
By giving your students the words you want them to use, it takes the pressure off having to know what to say. Many students understand what a noun is, but they get stuck in the wording…
Independent Practice
Here's an activity I made to use with my students after my mini-lesson. There are plenty of options in my packet to teach nouns in 1st grade. I like to use practice worksheets after a lesson, sometimes for morning work the next day, and in Literacy Centers.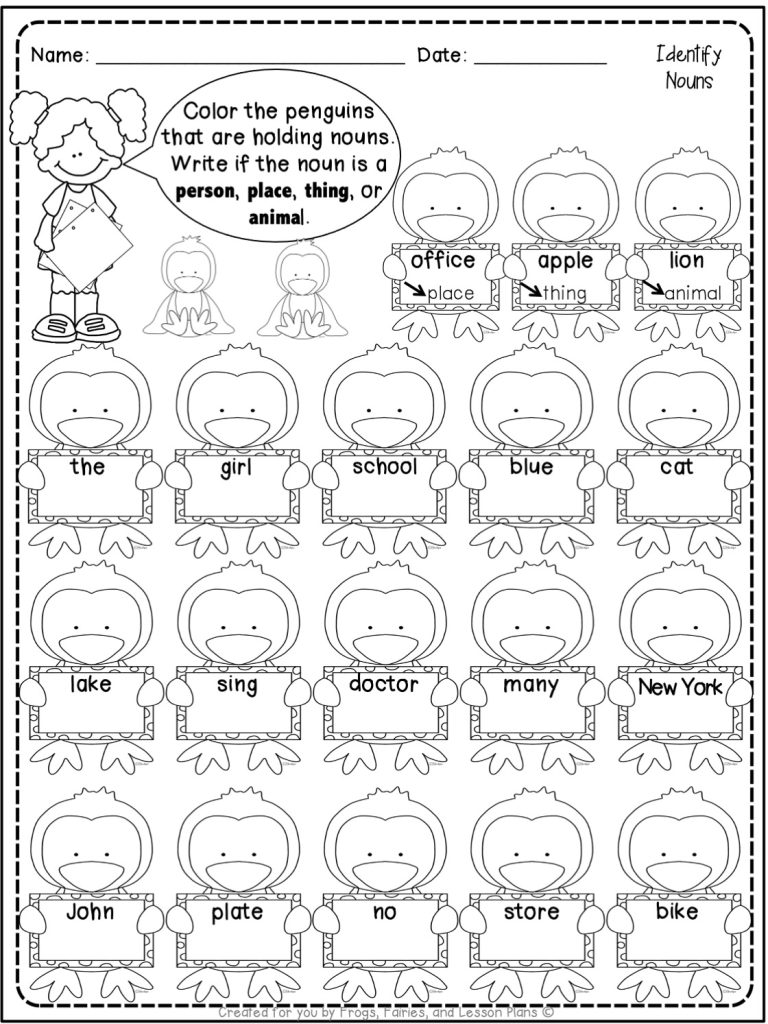 Try some of my Language Arts activities to see if they are a good fit in your classroom!
You can preview my Noun packets to see everything that's included.