Common and Proper Nouns
If you are getting ready to teach nouns in 1st grade, I have a few ideas, activities, and anchor charts for you!
Before we begin, make sure you are familiar with the standards that you need to cover (which may vary from place to place).
The Common Core standards are:
L.1.1.B – Use common, proper, and possessive nouns.
L.1.1.C – Use singular and plural nouns with matching verbs in basic sentences (e.g., He hops; We hop).
I've prepared 5 lessons that will help you get the job done!
Lesson 1 – I can tell what a noun is.
Lesson 2 – I can sort nouns into categories of people, animals, places, and things.
Lesson 3 – I can change a singular noun into a plural noun and use both correctly.
Lesson 4 – I can use possessive nouns and not confuse their spelling with the spelling of plural nouns.
Lesson 5 – I can use common and proper nouns correctly.
➽ This post will address Lesson 5
➽ For Lessons 1 and 2 click here.
➽ For Lessons 3 and 4 click here.
Lesson 5 – I
Can use Common and Proper nouns.
Before starting the lesson, I do a quick review of what we have learned about nouns so far.
Then, I tell my students that nouns can also be Common or Proper. Common nouns name generic
people, animals, places, and things. I show them the words "teacher, dog,
school, and marker on the chart that I prepared ahead of time.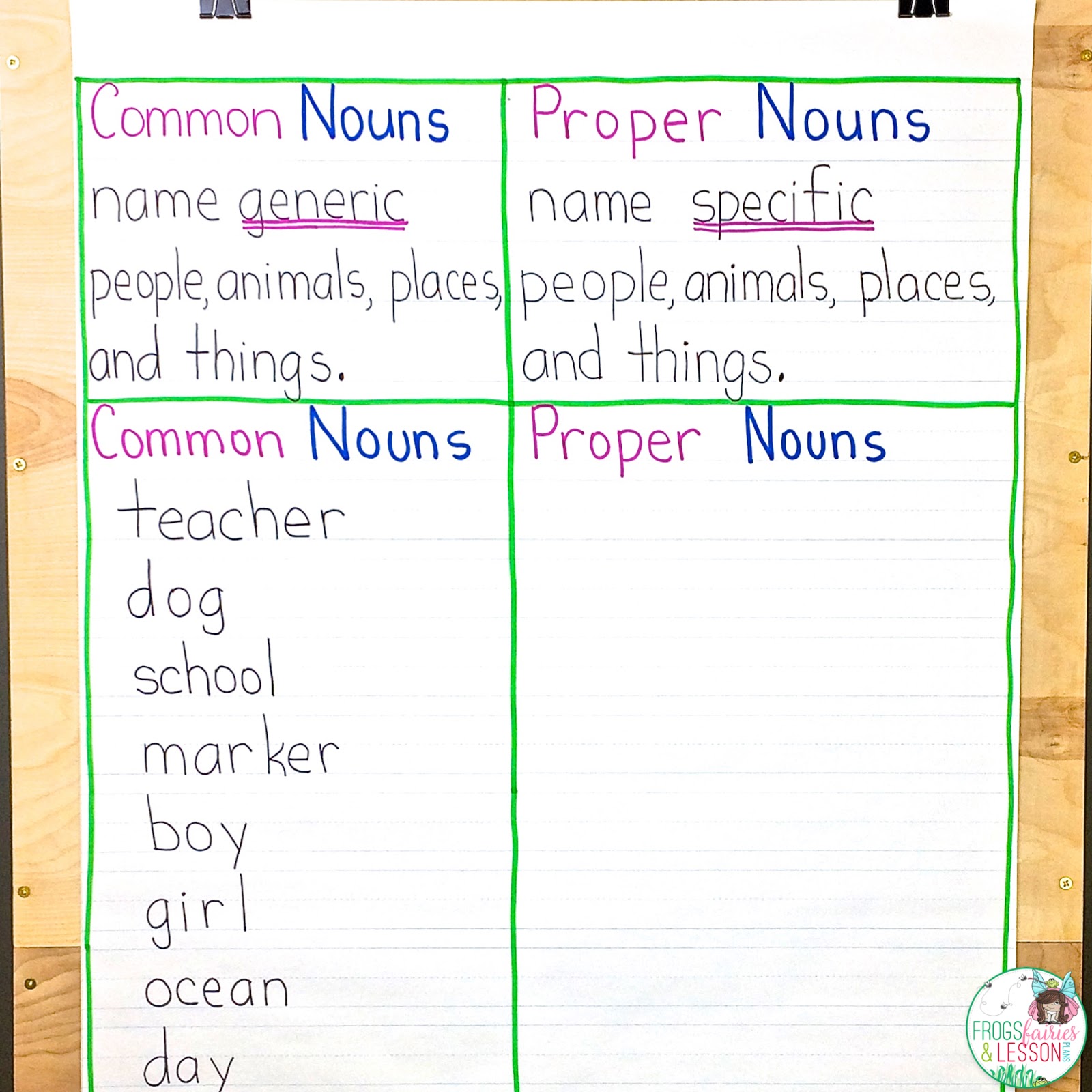 Next, I
tell them that proper nouns are special nouns that tell you the name of a very
specific person, animal, place, and thing. I fill in the spaces in the chart
with proper nouns that they recognize like, my name, one of their dog's name, and so on.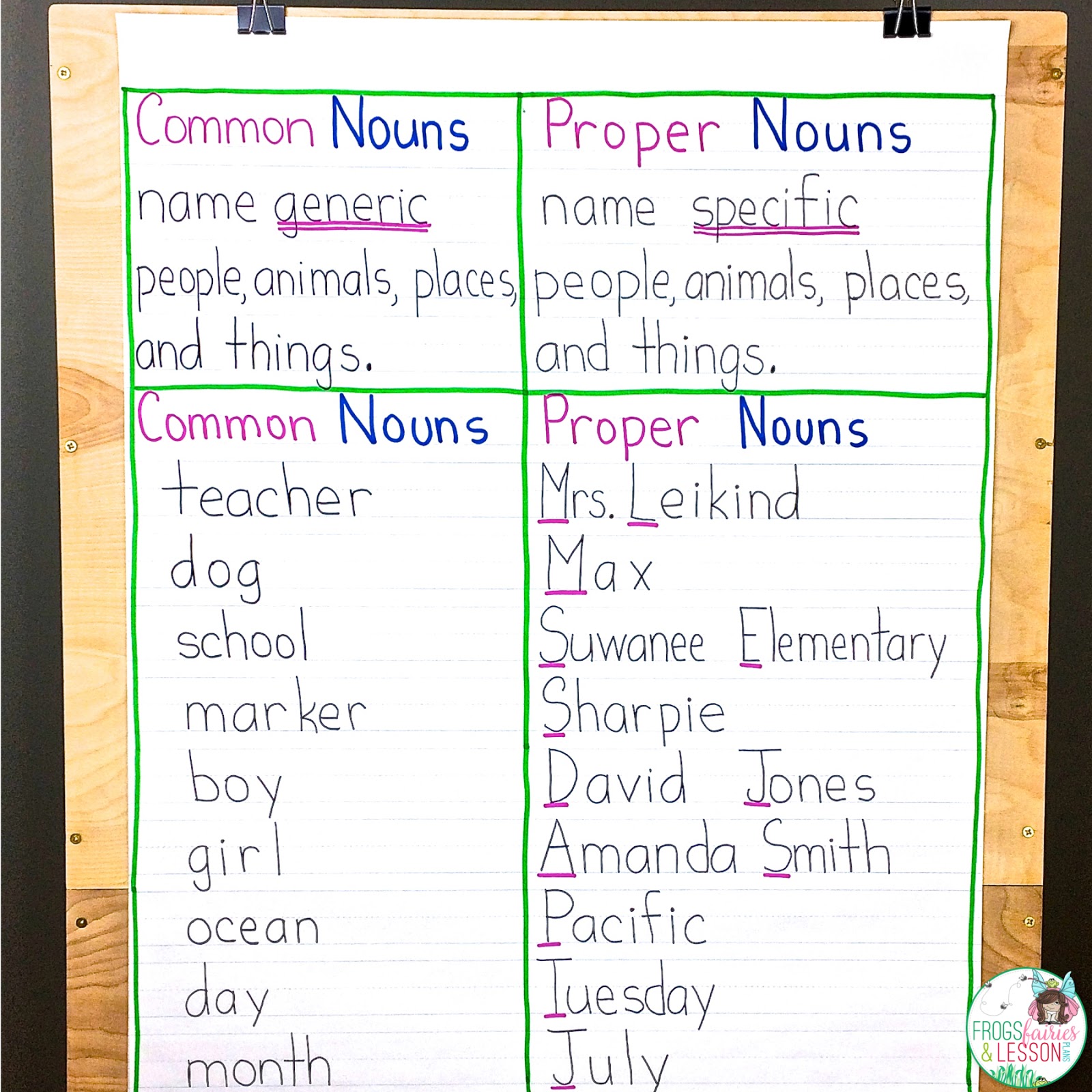 We
spend some time filling the rest of the chart, and I make sure to have them
notice that all proper nouns are spelled with a capital letter.
To practice using common and proper nouns, I like to use cloze activities. You can prepare these sentences on a chart, or on sentence strips.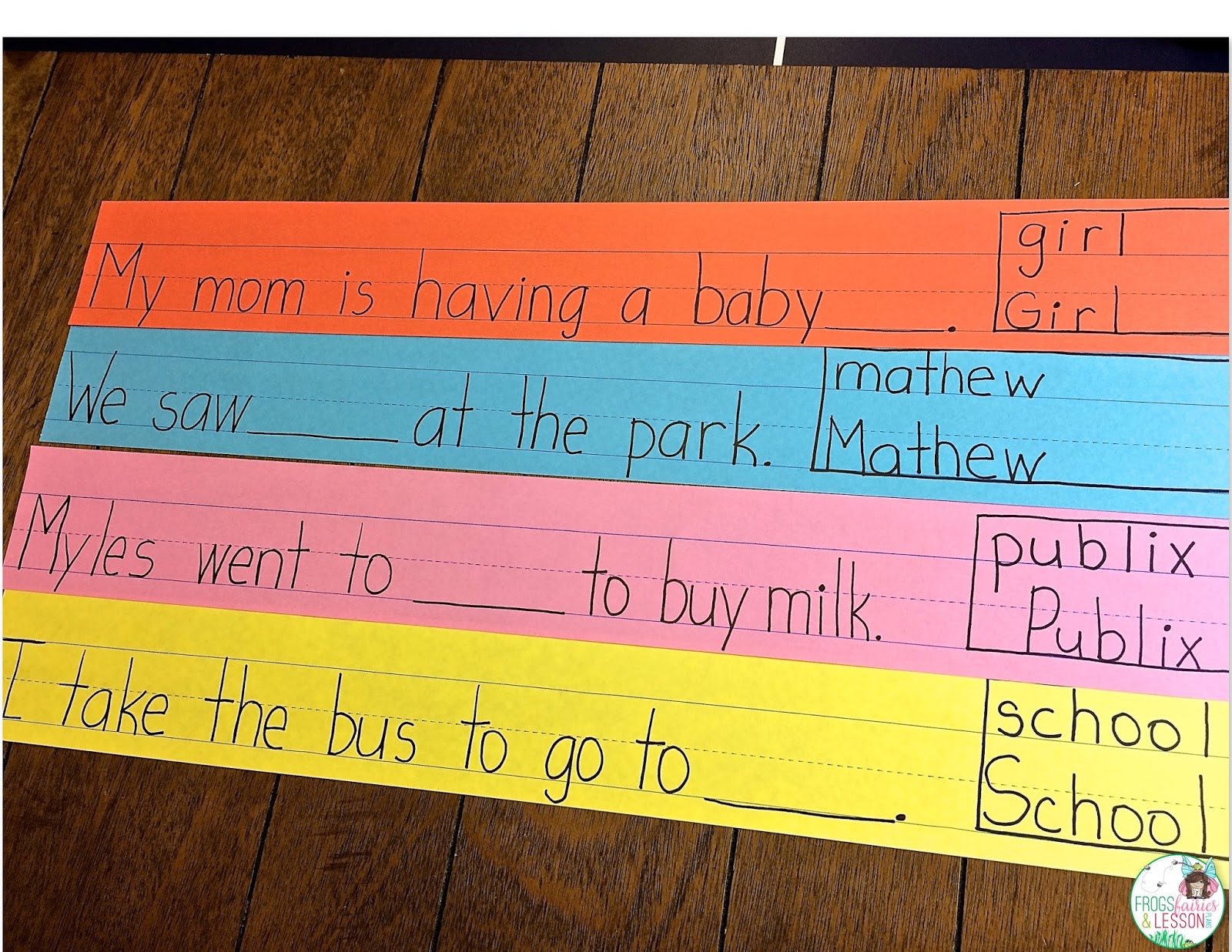 I also made practice sheets for my kids. Here's an example of one of the activities that they do. I like this sheet because it has cloze activities, multiple choice questions, and a place to write a sentence and underline the noun in the bottom.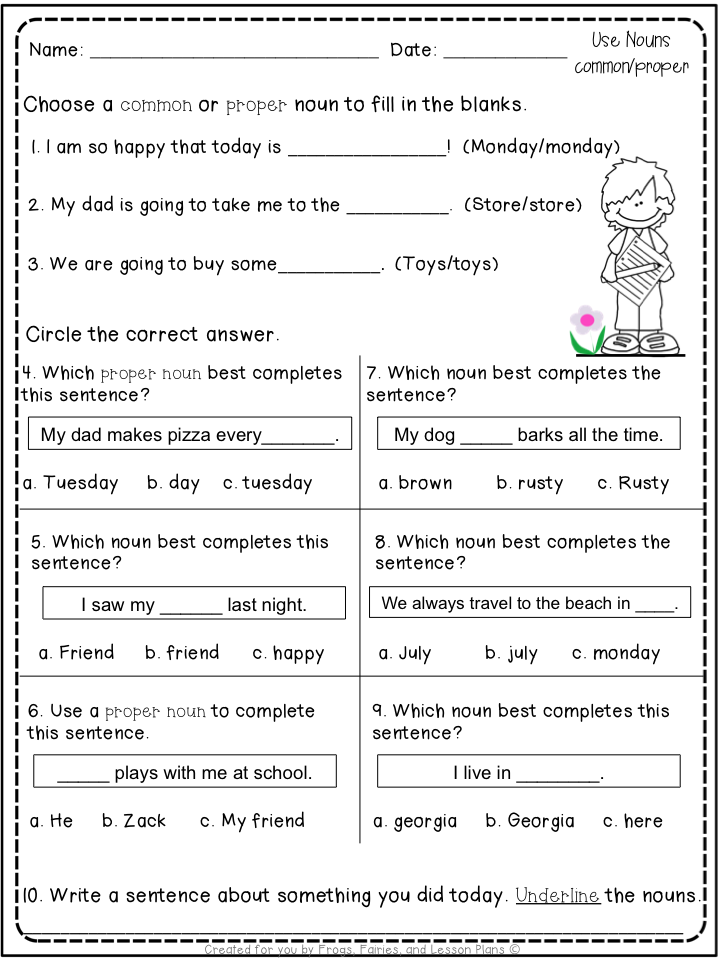 This concludes the Noun Lessons series of blogs. I hope you've enjoyed the activities, and that you got good ideas for your anchor charts and lessons.
If you are looking for supporting materials for your noun lessons, I've uploaded the ones I created onto my TpT store. The file includes sorting cards, a sorting mat, lots of practice sheets, and even an editable file that lets you generate your own materials!