As I said in Vol. 1 of this Back to School series, throughout my career I've spent countless hours getting ready for Back to School week. Things didn't always go smoothly on the first day of school, but I learned a lot along the way. Here are more of my best tips to save you time and give you a great start for your 1st week back!
If you missed Vol. 1 of this series, you can find it here.
1. About Me, the Teacher!
Here's something that will put parents and children at ease when they finally meet you.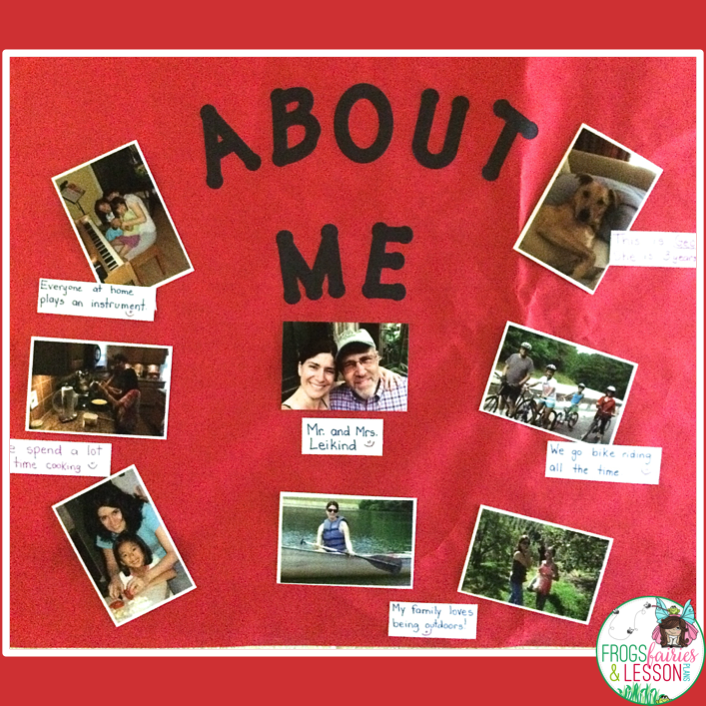 Create an About Me Poster with personal tidbits that you are comfortable sharing. Place it outside your door. It makes us more "human" and relatable. I noticed a huge difference, specially on parents, after I started doing that. They felt like they knew me, and that their child was going to be okay.
The kids had questions and comments about everything! It was such a fun way to bond and make everyone feel at ease.
2. Don't Sit Until I See You! – Approach to the first day of school

I think I might get clobbered by some because of what I'm about to suggest. Just hear me out…
On the first day of school, none of my students are allowed to go to their desks until I have checked in with them. None of the "Sit and do this cute activity, then I'll call you to give you what you need."
The first day of school is CRAZY. Lots of things happen that are completely out of your control. Even the most organized teachers, with the best of intentions, can be surprised and thrown off schedule.
You thought you would get to X, Y, and Z, but the end of the day is here and you forgot/didn't get a chance to X, Y, and Z!
After that happened to me, I decided to take a more unconventional approach…
Back to my idea…
Before any child sits in my class, or hangs his backpack on the 1st day of school, he must have everything he needs to function safely in school, and to go home that day.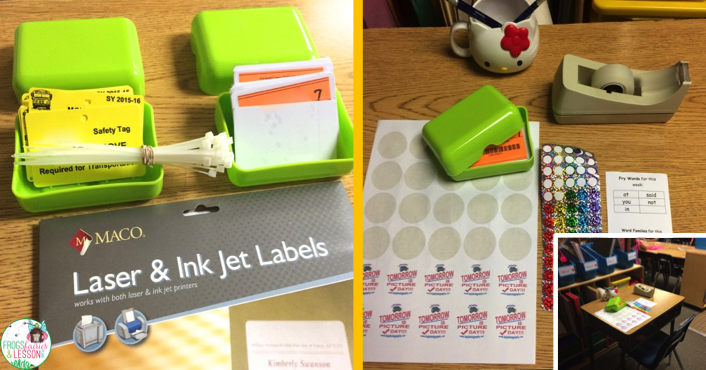 I have my students make a line outside the door, or inside the classroom along a wall, then I call one at a time. They get a bus tag attached to their backpack, a label with their name stuck to their shirt, and I make sure I have their lunch cards BEFORE lunch time. I keep a desk by the door all year long, and we conduct business every morning as the kids come in. This is hard to do because you have to commit to the routine every day, but it has saved my behind in more ways than I care to share!
3. Hang you Backpack This Way, Not That Way!

I know I am not alone in feeling completely frustrated with the way kids hang their backpacks and jackets when they come in. Clearly, my wall looked like a disaster! Such an eyesore, specially when your classroom is all put together, right?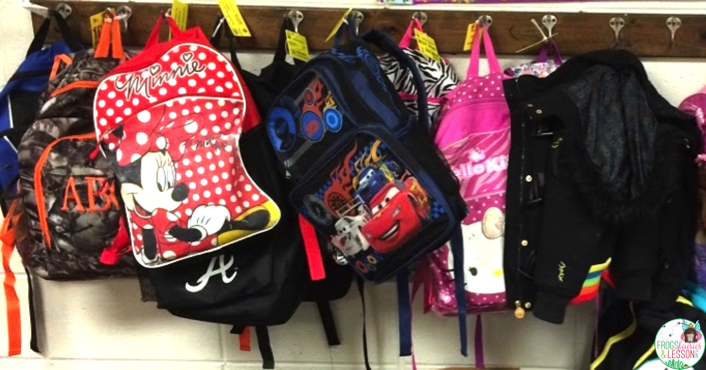 Well, I used some "instructional time" at the end of the 1st week to show kids how we were going to do this from that point on!
They were asked to:
Hang the 1st backpack on the 1st hook on the bottom row.
Turn the backpack to the side.
Place their jacket in a bin, or hang it up on their chair (There was modeling on how to do that too! It's surprising how much they don't know!)
This is what my wall looked like the day I modeled.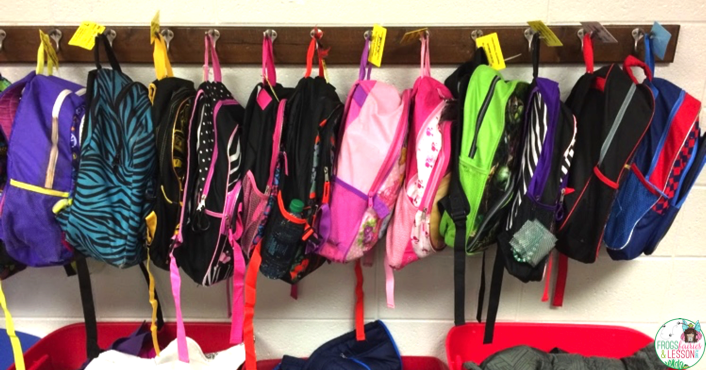 And this is what it looked like for the rest of the school year.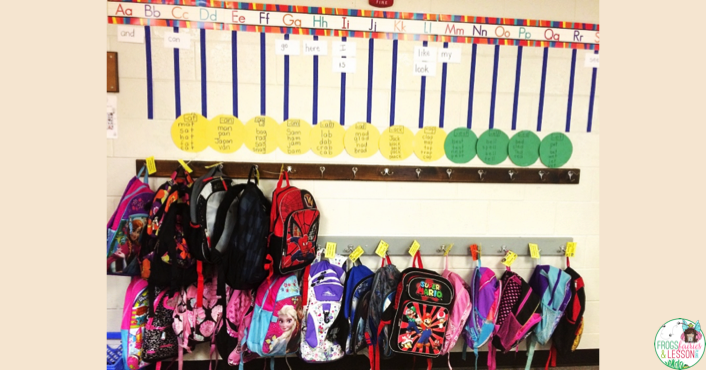 There's always that one kid (ha, ha, ha).
4. Show and Tell

When families come meet me on Meet Your Teacher Day, before the first day of school, I give them this little activity to do at home.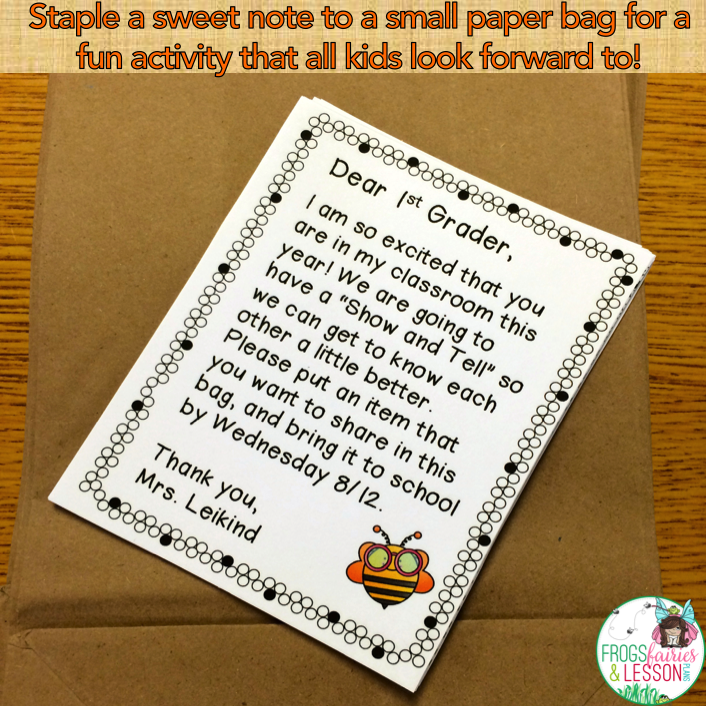 Then, each day at the end of the day, I take about 20 minutes to share a few things. The kids come to the carpet with their bags packed, sit in a circle, and a few of them share. Doing it little by little allows the kids who never got the activity, to take it home, and bring it in on a later date. It also is more age appropriate considering the students' attention span.
This is also a wonderful opportunity to discuss procedures and your behavior expectations when students are sharing with each other.
5. Write About Classroom Rules!

Want to integrate writing into all the Procedures Teaching that 1st week? Here's something I use every year. The left overs get placed in my Substitute Binder!
This resource has writing prompts that ask children to draw a picture of them following rules in all kinds of situations, and then to write about their picture! You can get the whole packet right here. My treat!
6. Be Your Best Friend on the first day of school! Plan for Student Independent Learning Time!
Here's something SUPER important that I've learned:
If I don't have a good mix of "independent work" and "group work" activities on that 1st week, it's just not going to work.
We have supplies to put away, paperwork to deal with, tests to give, and so many other "non-teaching" things to do that week! It is not realistic to think that you can do it all and teach the whole time you are with your students.
Be selective with the materials you assign! Make sure they are relevant, engaging, and easy for students to work on independently!
Alternate periods in which the kids can do their own learning/reviewing with periods when you are in charge.
Plan out your activities with that in mind. I like to ask "When I need to do this, what will my kids do? Is there value in what they are doing?"
I have my own packet of materials that I created for my classroom. There are Scavenger Hunts, Games, lots of cut and paste activities, Reading Logs, Word Problems, and things like that.
Take a look at it here if you need to add to your materials.
Remember we are planting seeds every day. Let's give our students not only the intellectual education that we are required to, but a safe space where they are valued and loved.
I wish you all a wonderful school year.
---
For more back to school tips go to:
---
For these first week of school Resources click on the links: