It's Back to School time, so I'll just say it:
What will make a difference when the first week of school hits, is not how cute your classroom looks, it's how carefully you have thought through logistics, and how present you are with your students.
I know there are endless Back to School ideas floating around the web, but not all of them will move the needle when it comes to having a solid beginning of the year. With time at a premium, you can't afford to overcommit to the wrong projects.
Do you want to start strong? Browse through these 20 logistics questions, assess where you're lacking, and make a solid plan to get you through that first week with flying colors!
1. How will I collect school supplies?
I struggled with this during Back to School week for too many years, and I don't want you to do the same! If you don't have a plan that you are happy with, take a look at this one.
2. Where will my students sit and what will they do when they come in on the 1st Day?
Seating
Have you thought about where your students will sit? There are pros and cons to every choice. On the one hand, having assigned seats right away avoids confusion. On the other, letting students sit where they feel comfortable can create a less stressful atmosphere. Think about both options and how you feel about each one. Also, consider a compromise where you let kids sit spontaneously at first, and once you become familiar with them, assign their seats.
Activities
What do you envision your students doing right after they walk in, while you are busy getting everyone settled in?Make sure you have something engaging, educational, and that students can work on independently when they walk in the door. I had book bins and worksheets that reviewed Kindergarten skills.
My big tip here, is to model good independent work behavior as soon as possible. Students should learn to spend quality time with each book even if they can't read all the words and to put effort into the morning work you give them.
3. How will I call students to the carpet? Where will they sit?
Just asking students to come to the carpet is a recipe for disaster! They need to know what behaviors are expected of them from Day One!
A few things to ask for are: to please push chairs in, walk nicely, and to sit with enough space between each other. Also, consider if you want them to sit in rows or other assigned seats. Finally, do you want them to put their work away and clear their desks before leaving their space? All food for thought!
4. How will I line students up at the playground?
So you released your darlings into the playground. How will you get them back when it's time to go in? I've seen teachers clap, and use a whistle or a chime. Obviously, the most important thing here, is to have a talk with your students BEFORE going to the playground for the first time. Practice in class what you will do, and how they will respond.
5. How will I get my students' attention or quiet them down?
Having these behaviors in place right away will save you invaluable time all year long! Young kids respond well to chants and clapping rhythms, so I use them to get their attention.
You don't know any chants? YouTube is a huge source for them! I love the Attention Grabbers by Dr. Jean!
Again, modeling the behavior before you need it to be in place is the best, best thing you can do. Practice your attention grabbers throughout the day and stay consistent.
6. How will I handle pencils?
Oh, boy! Another tough one! Pencil sharpening and pencil keeping are a struggle in everyone's classroom! I don't like to brag, but after a few years of trying different approaches, I nailed a system that worked really, really well! Read about it here!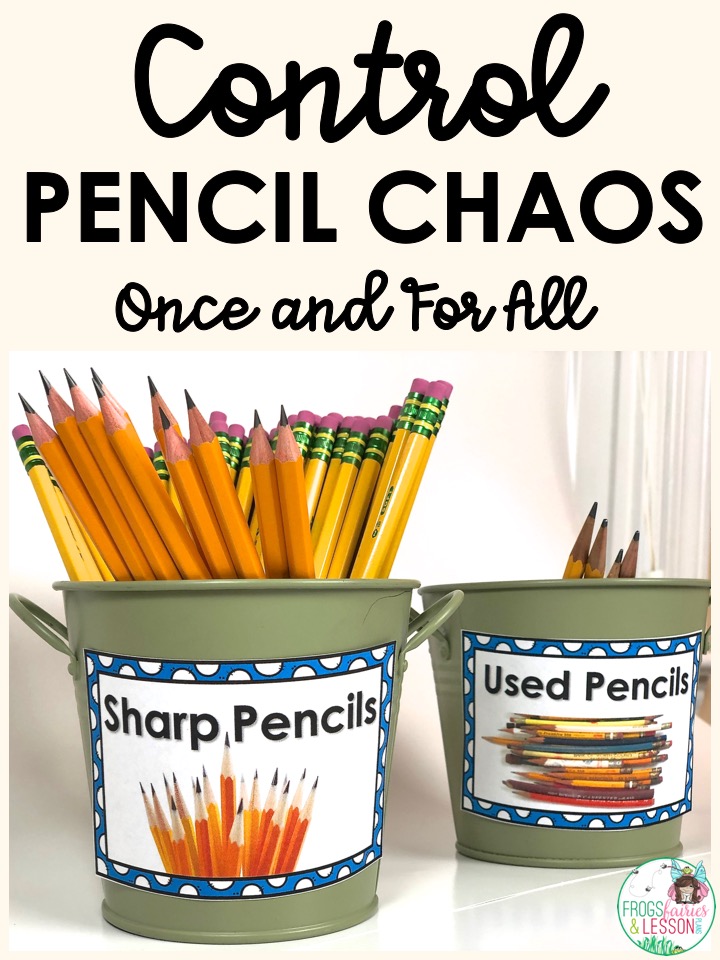 7. What will my classroom rules be?
If you don't know what rules to have, your colleagues will have examples of what rules they use. Look around and pick what matters to you.
The rule I love the most is: "Let the teacher teach and students learn." , because it encourages students to self-assess. Of course you would bring up a number of behaviors and discuss if they are "letting the teacher teach and students learn" before expecting your students to know what you are talking about!
Ultimately, my suggestions are to keep rules to a minimum, to let students know what the consequences are for breaking the rules (more food for thought), and to consistently go over the rules at the beginning of the day for at least 2 weeks.
8. How will I pass and collect papers?
It might not seem like a big deal, but you'd be surprised at how quickly students become distracted and disengaged while they are waiting for papers. You want students to move quickly from getting directions and getting work put in front of them. Similarly, speedy paper collecting is just as important. Passing and collecting papers efficiently is a must!
Some ways to pass and collect paper are:
Have a "paper passer" or a "table captain" at each table who is responsible for dispersing and collecting papers from their peers. In this case, you hand those kids enough papers, tell them where you want the papers placed at the end end, and they do the rest.
Place a stack on each table and let the kids get their own papers. At the end of the activity the kids make a neat pile and you collect the papers all at once.
Lay out papers when kids are engaged with something else or before they come in.
9. Where will I keep the worksheets I'll use each day?
There's nothing worse than stalling the beginning of a lesson because you can't remember where you put the papers you needed! Think of a system that you can follow consistently. It really helps to know where your materials are!
How did I do it? Oh, I always used 5 folders labeled Monday through Friday. As soon as my copies were ready, I'd file them under the day I planned to use them, and voila! The copies I didn't get to on Monday got moved to Tuesday, and so on.
10. Where will I keep the papers that I collect from the students?

Something that you might want to consider, is separating work that needs to be graded from work that doesn't. You want to have quick access to graded work so you're not sorting through everything.
Also, how much are you planning on grading? How much are you planning on sending back home? I learned throughout the years that a small part of student work can be discarded. Much of the work our students do is necessary for them to learn and to practice skills. Clearly, not everything needs to be graded and sent home.
11. Where will I keep samples of student work and personal information?
Do you know where you will keep samples of each student's work? Consider hanging files. Not only are they great for keeping samples of work for parent conferences, but you can keep notes that parents write to you, clinic passes, and any other personal information that you might need later on.
12. How will kids access their water bottles and snacks?
This is something I'd ask my fellow teachers about. Sometimes schools have policies, or grade levels have something they do consistently across the grade.
My students kept their water bottles on their desks and their snacks inside their desks. They'd bring all of that out of their backpacks during arrival, and be all set for snack time!
13. Will I have a newsletter to communicate with parents?
Again, some schools have a policy about this, so make sure to inform yourself!
Even if newsletters aren't mandatory for you, I'll argue that they're still a nice way to communicate with parents. Keep it simple if you are overwhelmed. Choose a template that has boxes and titles formatted for you, and add just a few important things. Once you get the hang of it, you can write something more detailed.
Keep in mind that many parents are tired at the end of the day and prefer newsletters that go straight to the point. No fluff please!
Here's a post on how to make newsletter writing easy breezy! And if you need templates, check mine out here.
14. What happens if a student needs to go see the nurse?
Check with your peers what the procedure is for sending students to the clinic. Do they need a form? Do they need a buddy to walk with them?
15. How will I send papers home each week?
Typically, you'll have to send papers home at least once a week on Friday. Think about where you'll keep those papers and how your students will access them.
16. What homework will I send?
Homework has become a hot topic in the past few years. There are studies that tell us how much homework to send, and some that advocate for no homework at all. To get a quick gist of it, read this post with 5 tips to assigning homework.
Some schools require that you send the same homework as your team. In this case, skip this question.
In case you are in charge of finding your own homework, there are excellent options out there, including my Homework Packets.
This link takes you to my TpT store where you can browse my categories (column on the left) and look for the type of homework and grade level that you need.
17. How will I prepare for days that I might be absent?
Getting student information and emergency plans ready for your sub should be a priority on your Back to School to do list.
It is the professional thing to do, and will bring you immense peace of mind when are unable to prepare ahead for your absence.
The post mentioned below is a great starting point, and it tells you what important pages you should have in your binder. Another post shows you how to make your own binder. Moreover, if you are looking for binders templates, you can check mine out here.

18. How will I dismiss my students?
Don't overlook this last part of your day. Inevitably, by dismissal time you'll be tired, and your students will be "done". This is the perfect combination for things getting out of control.
One thing you should do, is give yourself plenty of time to check that everyone has the correct bus tags. Just as important, is that they know where to go, that they have everything they need. Last but not least, students need to be paying attention to the dismissal process.
19. What happens if I need to leave the classroom (bathroom or other emergency)?
Ask other teachers what they usually do when they need to leave the classroom. It's nice to know in advance what the procedure is for leaving your students.
20. How do I call for help is there's an emergency?

Some classrooms have a button on the wall and others have phones. What if you are in the playground? Find out what your "emergency" plan is before that 1st day of school!
That's It!
I hope thinking about these Back to School topics will get you ready for a smooth first week!
For classroom management tips check out these posts:
For Back to School Resources click on these thumbnails: