Are you teaching conjunctions in first grade? Then, I'd love you to look at my anchor charts, at the resources I use, and at my lesson ideas! You might find lots of helpful information to help you plan your conjunction lessons!
When I teach Conjunctions to my students, I use Anchor Charts, Children's Books, hands on activities for guided practice, and lots of resources for independent work! No need to worry because I'll go over all of this with you.
For more ideas, read the post Teaching Conjunctions.
Conjunction Anchor Charts
As you might know, teaching conjunctions in first grade will require you to create several anchor charts. This is where you'll write all the information your students need to know. I prepare all my charts ahead of time, even though it's a big time investment upfront. I'm sure you'll thank yourself later for having all the prep out of the way!
If you haven't created your own charts, feel free to copy mine!
BUT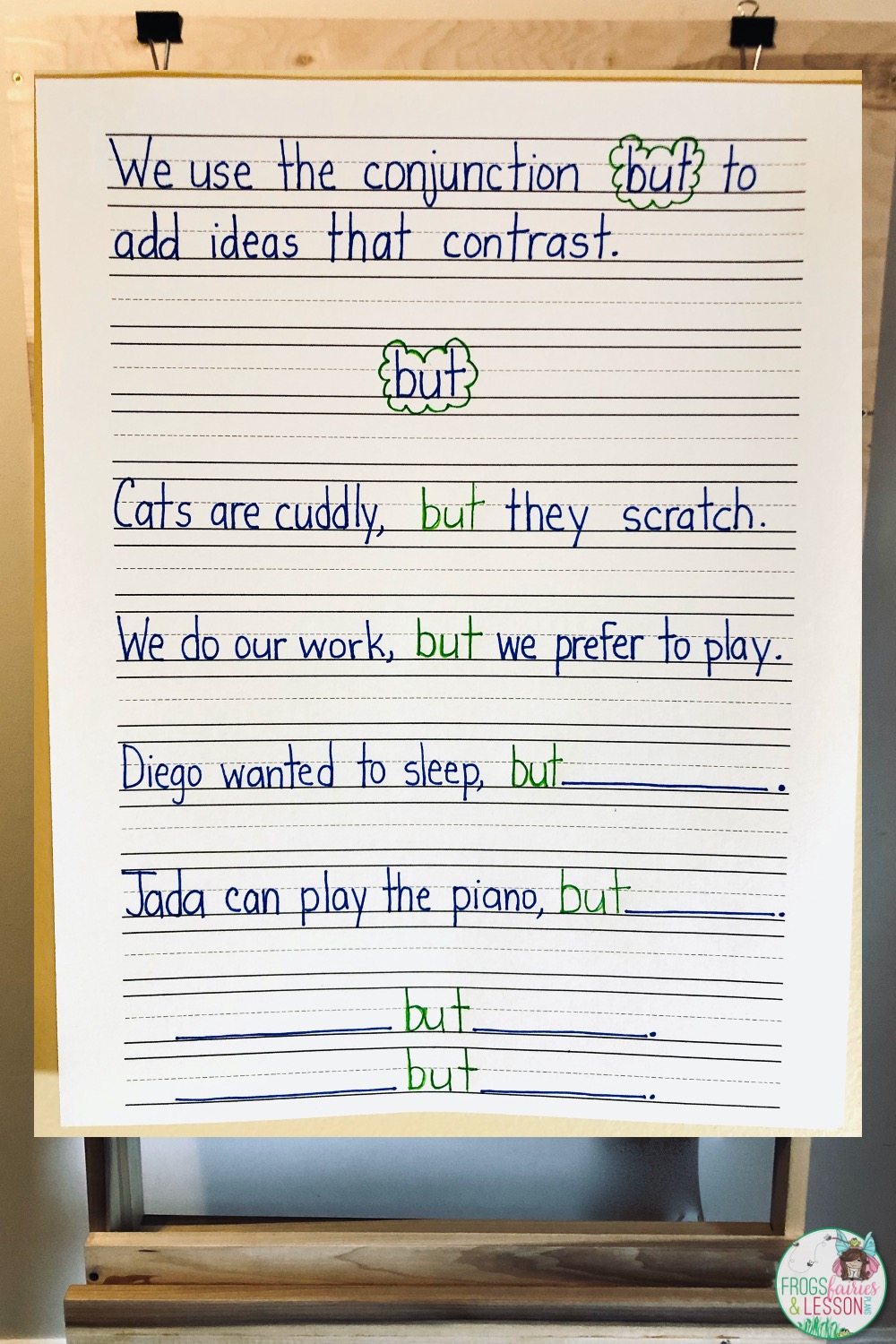 OR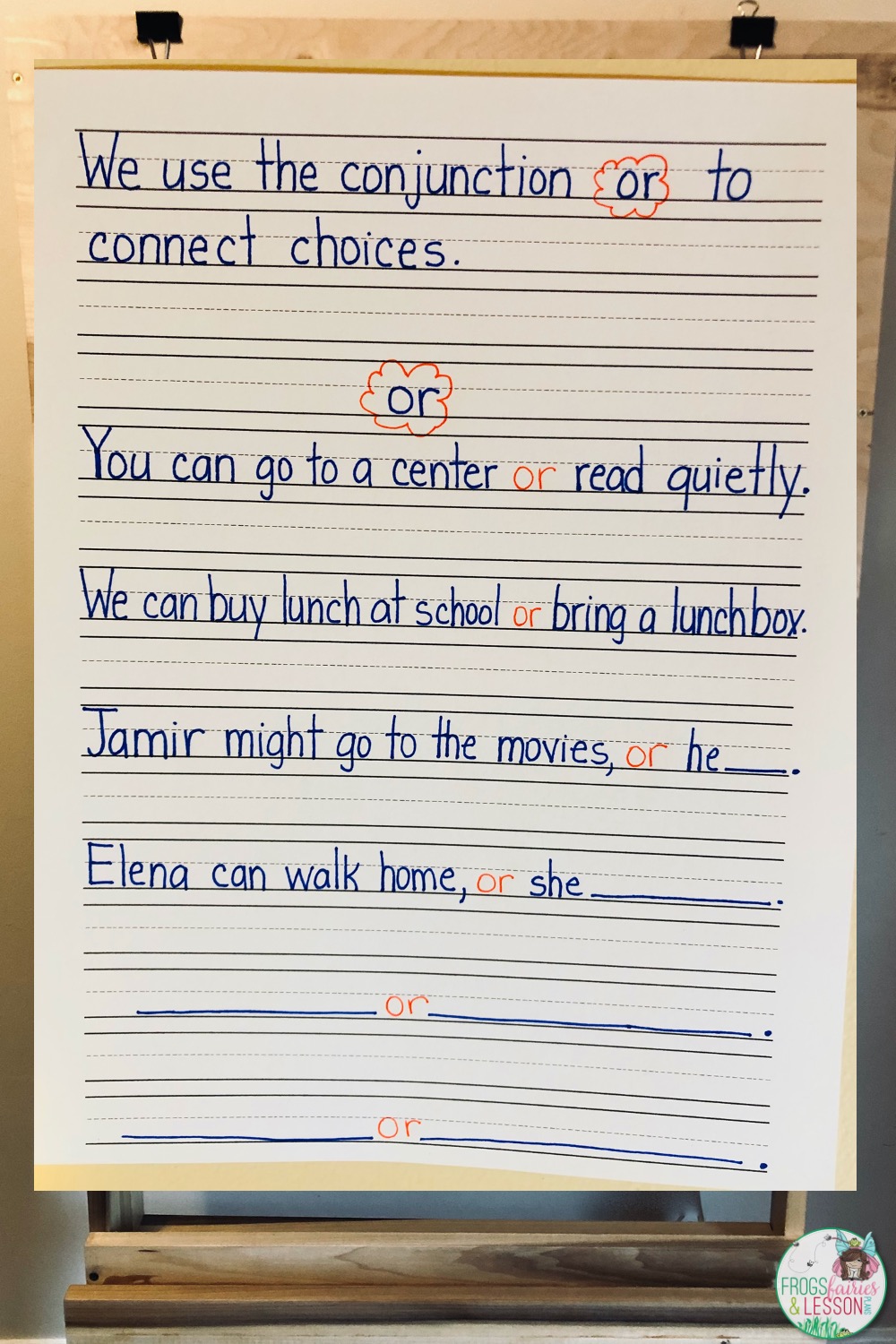 SO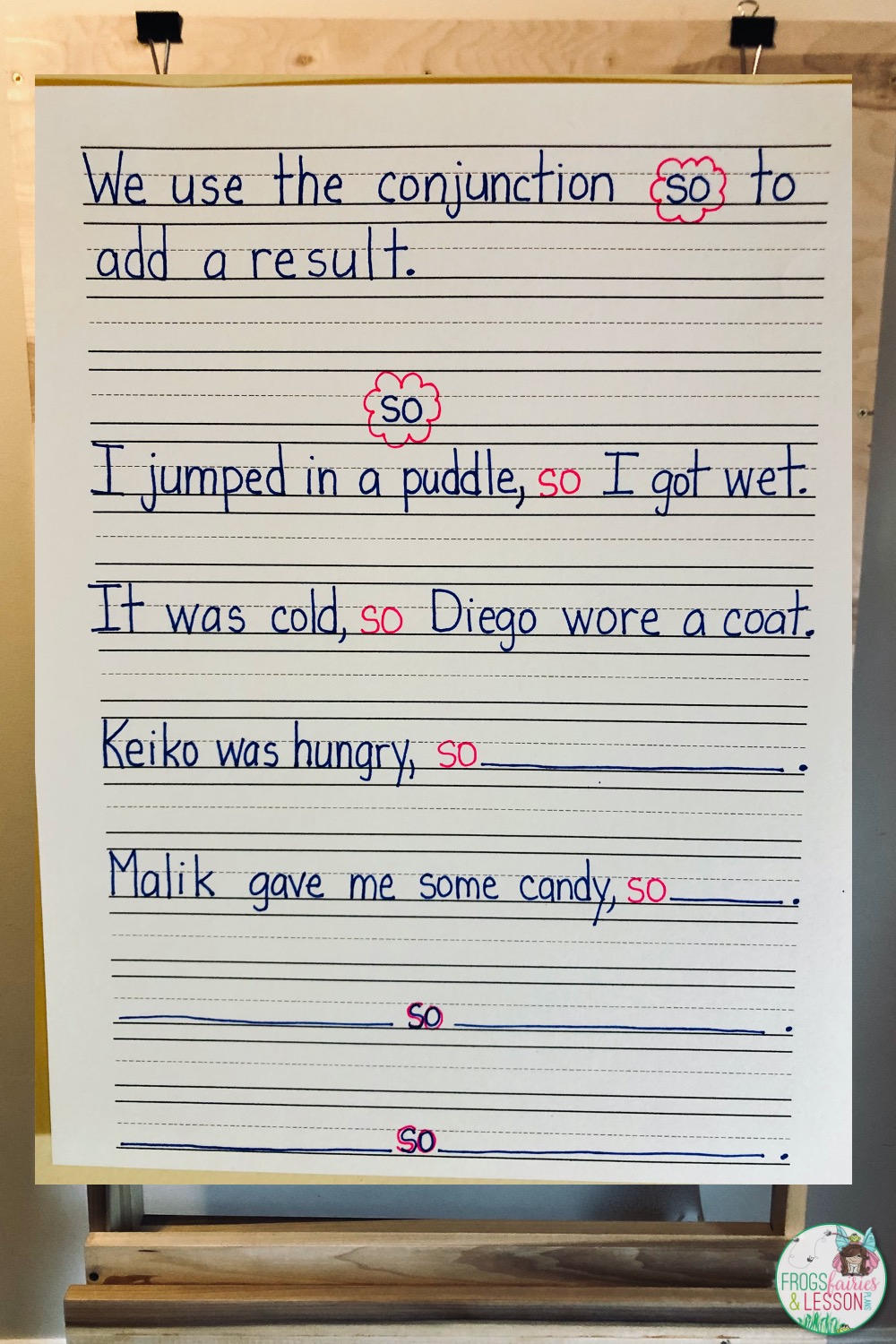 BECAUSE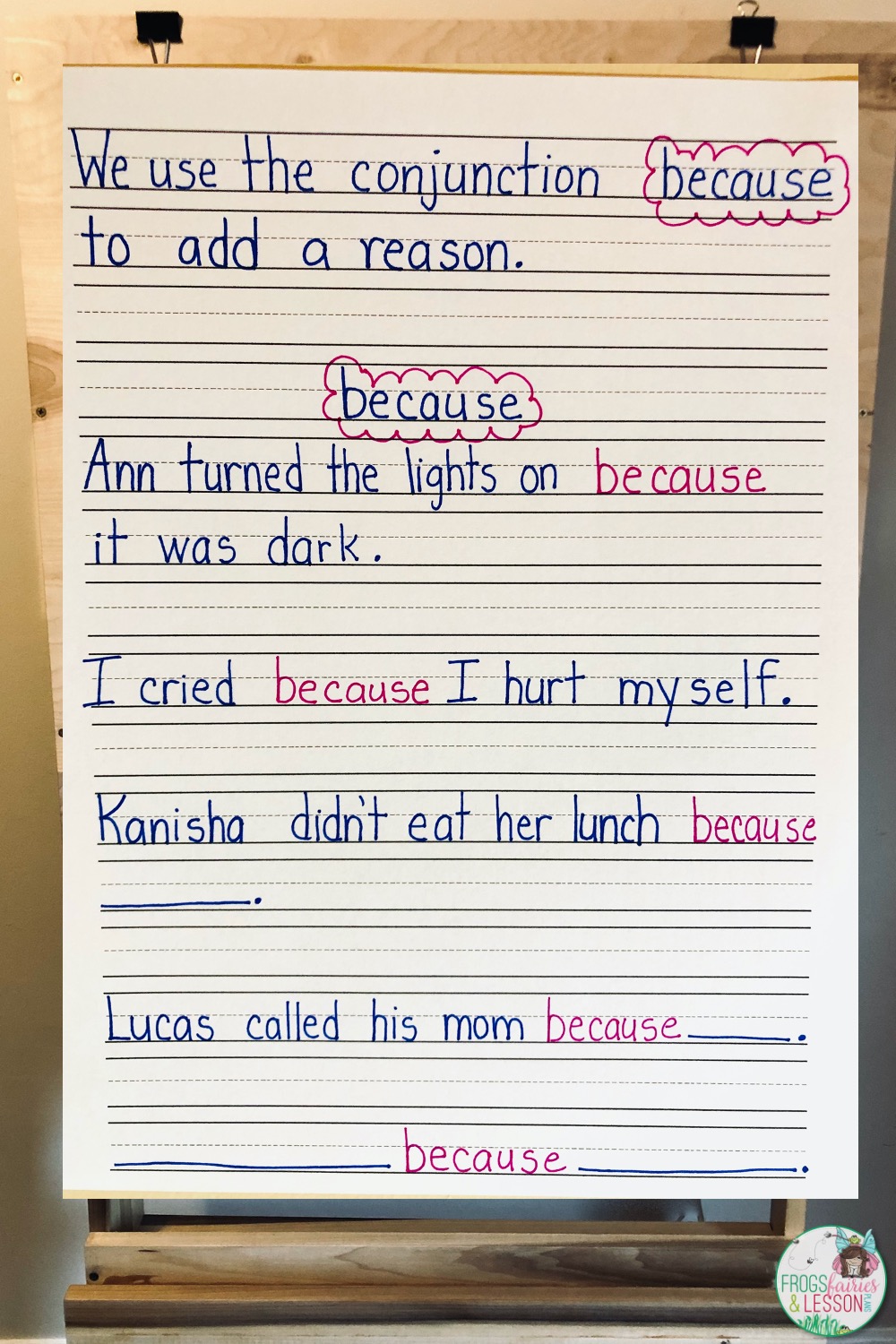 Lessons
In this section, I'll share how I structure my conjunction lessons.
First, my mini-lessons start with a connection between something my students are already familiar with and new information that's on the chart.
I might say, for instance,
"You already know about words that name things, and words that describe things. But today, you are going to learn about words that help connect pieces of information to each other. Those words are called conjunctions."
Then, I'd introduce the conjunction "and" with my first anchor chart.
AND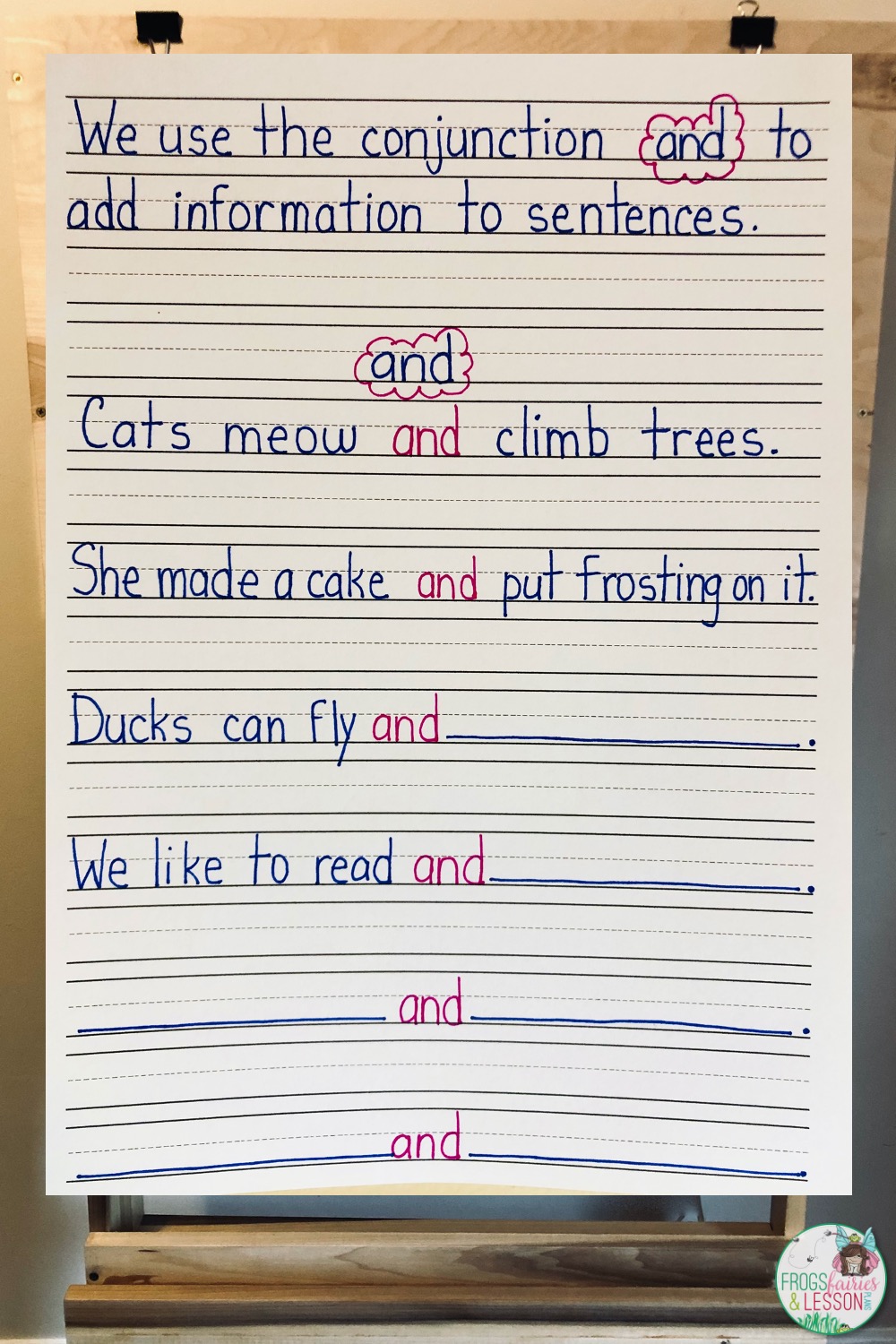 Next, I'd continue with,
"Cats meow and what else? They climb trees." "The conjunction "and" is helping us understand that there's more information about what cats do. It's connecting the two things that cats do."

Then,

"She made a cake and what else? She put frosting on it." "The conjunction "and" is helping us understand that she did more than just make a cake. There's more information about what she did, and "and" connects both things that she did."
Something to consider about anchor charts:
Because all the information for the lesson is already on this chart, it can be distracting to students. Not everyone does this, but I usually cover up the parts I don't want to show by folding (without creasing) the bottom of the chart up, and holding it with paper clips on both sides.
Books
In this section, I'd like to talk to you about how to use books when teaching conjunctions or other parts of speech.
It's important to show students the isolated parts of speech we're teaching in authentic ways. For instance, how do authors use them in books? To illustrate that, prepare a few books ahead of time to use with your lessons.
1. First, look for examples.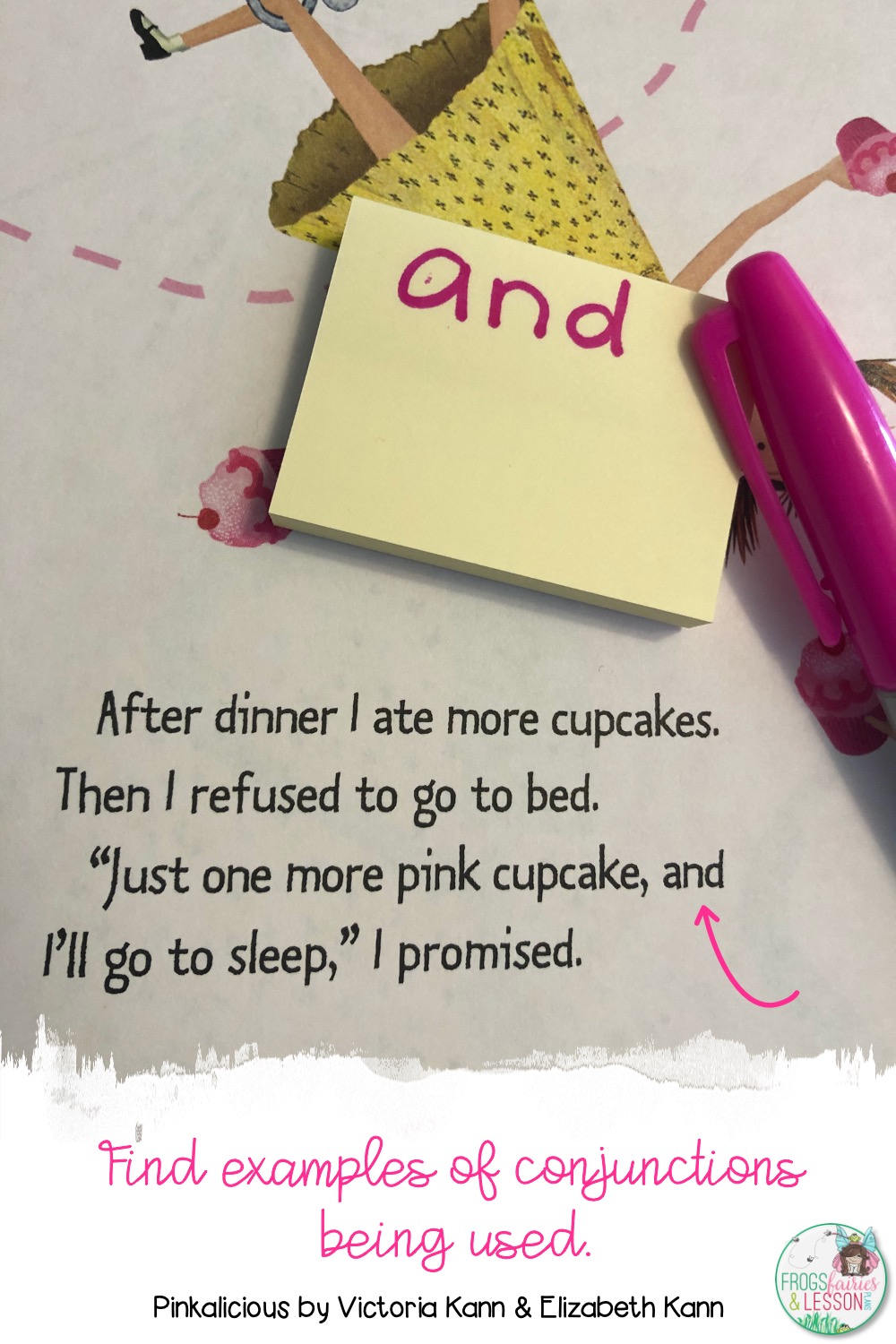 2. Then, bookmark the pages with mini Post-Its.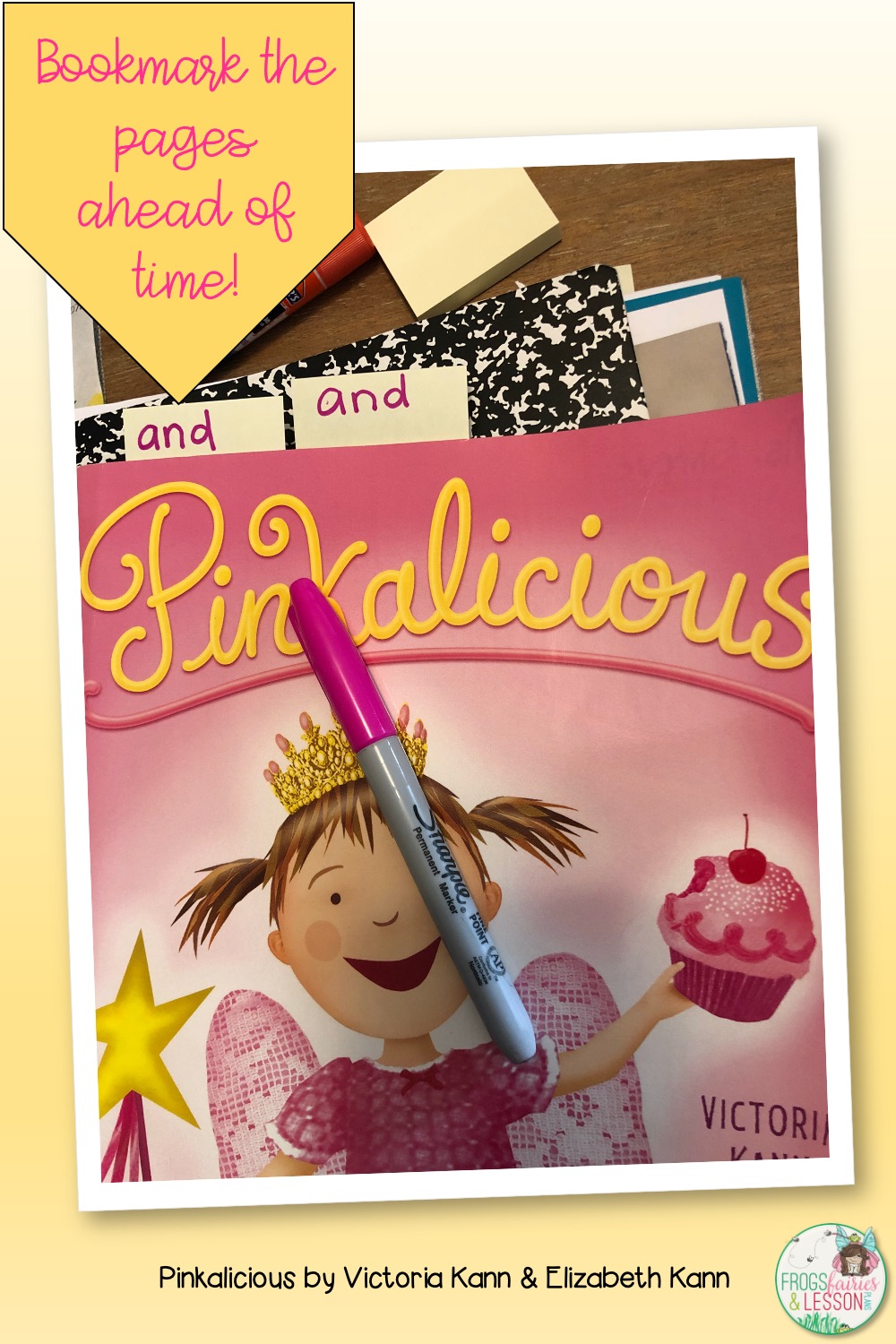 2. Last, Read!
Make sure you read a few pages of the books you selected, and show your students how conjunctions appear in literature, and in everyday speech!
Conjunction Hands-on Activities
For the guided practice and active engagement parts of my Conjunctions mini-lesson, I like to do hands-on activities. As you might imagine, you can't have too many of those when teaching conjunctions in first grade! Here are just a few things you can do:
1. Choose the Conjunction
In this first activity, students read incomplete sentences and decide what conjunction best completes the sentence. Of course this activity only works once students have learned at least 2 conjunctions.
In order to differentiate instruction, you can keep it simple, like this one, or you can mix more conjunction choices once your students are able to handle it.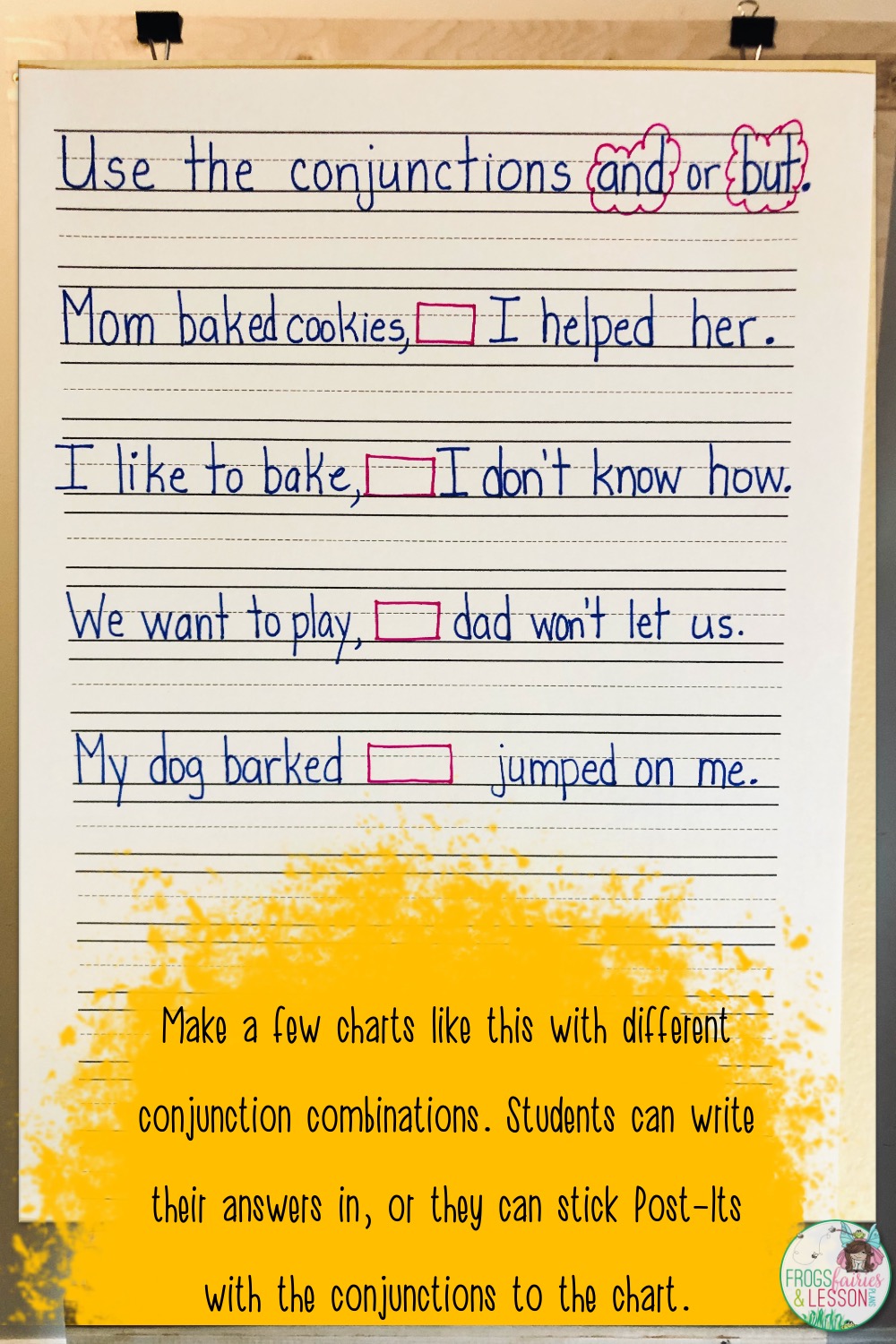 Something else to consider, is that you might want to reuse your charts over the years, in that case, you'd write the conjunctions on Post-Its, and have students use those instead of writing the answers in.
2. Sentence Match (Guided)
Similar to some of my anchor chart activities, this one requires students to use sentences and conjunctions to match them up. To prepare this activity, you would first think of a few sentences that use conjunctions. Then, you'd write the first part of those sentences, up to the conjunctions, on the board. Last, you'd write the second part of the sentences on sentence strips.
To do this activity, students read the first sentence on the board and decide which sentence strip best completes it. You can place the sentence strips on the board using tape or magnets.
3. Sentence Match Game (Independent)
This is a modification of the guided version, but it works if you want your students to practice independently. Simply write both parts of the sentence on strips of paper and have students mix and match until they all make sense. I have this activity as a Literacy Center game.
You can see a video of this activity in this blog post.
4. Other
The last activity I want to share is this one. It's pretty self-explanatory!

Independent Practice for Conjunctions
As students understand what conjunctions are for and how to use them, it's time to give them many opportunities to practice on their own. For that reason, I use a variety of practice sheets and games. My students love these because they can practice the same skill in different ways, and as a result, they are never bored!
One of the reasons I really enjoy using these sheets is because they lend themselves to differentiation. I can choose the perfect worksheet for my students and meet their needs. For instance, I can give a student a quicker to complete sheet, and another a sheet that requires more work to be done, and still provide them with great conjunction practice!
To give you an example of what I use, this is a set of worksheets for "and/but".
As you can see, this first sheet is easy and quick to complete. All the students need to do is read the sentences and fill in the blanks with the correct conjunction.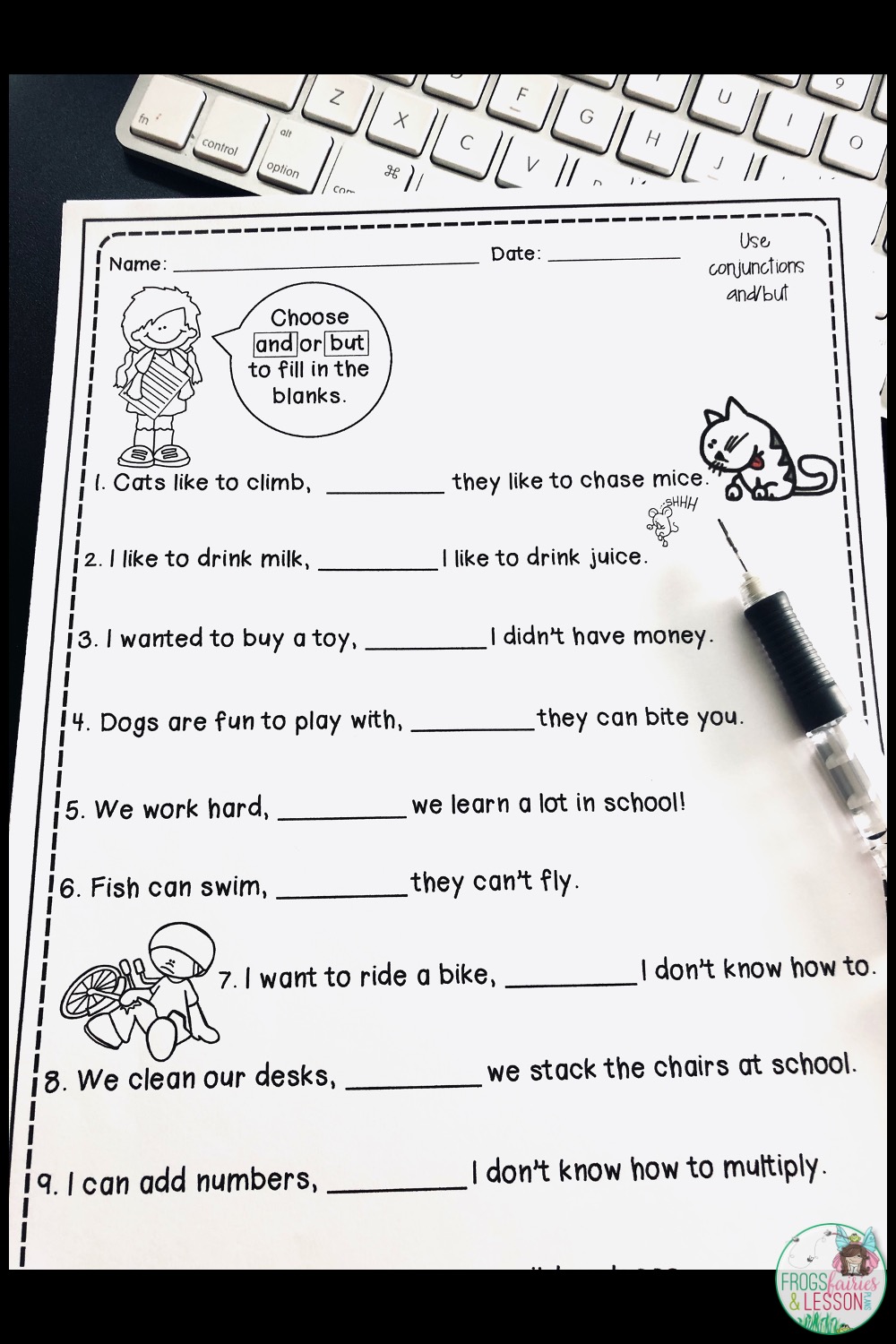 Available for purchase here.
Here, for example, you have a cut and paste. It's very similar to the first, but it takes longer to complete, and targets motor and organizational skills.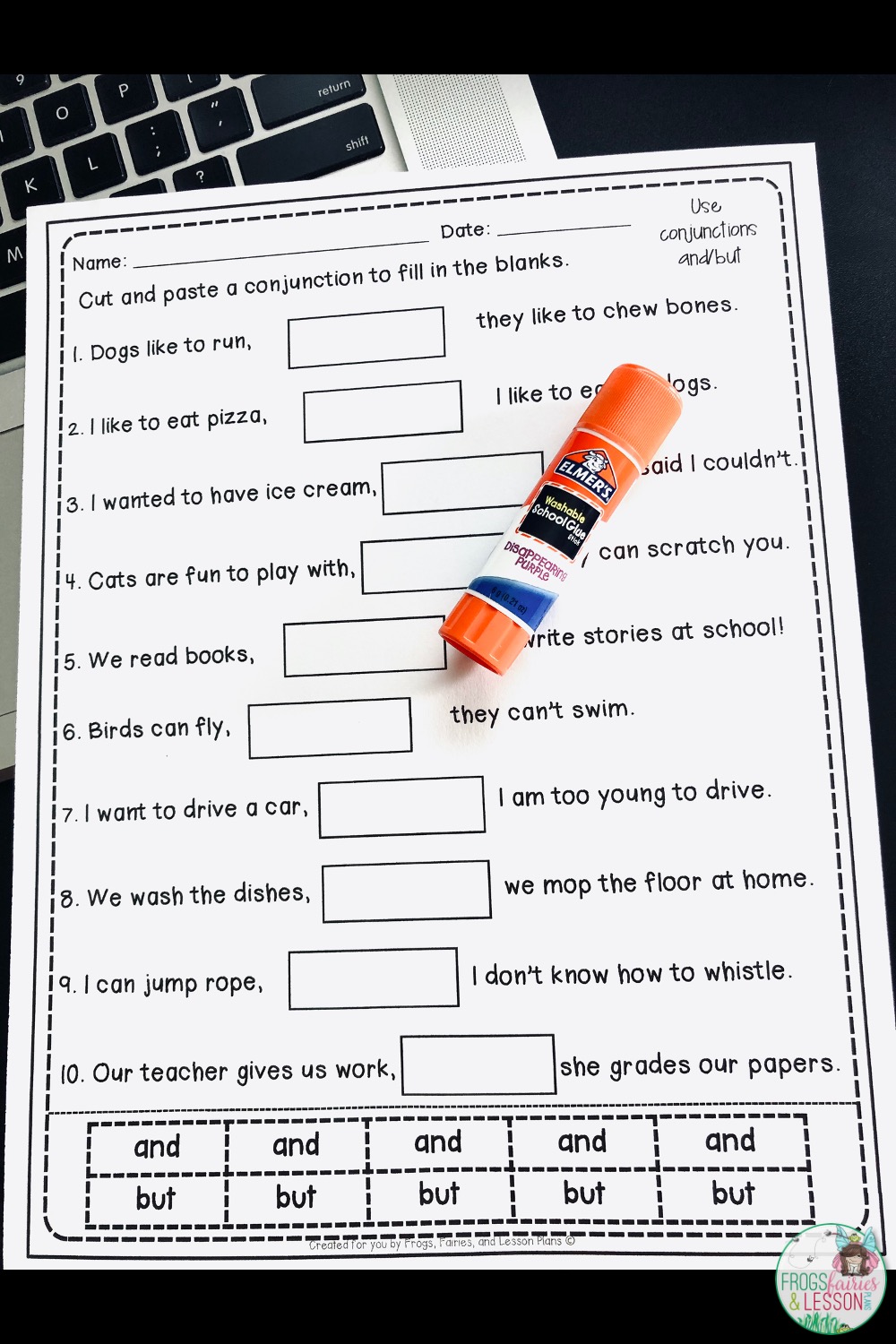 Take a look at a third way to practice using the conjunctions "and/but". In this case, students use with their own ideas to complete the sentences.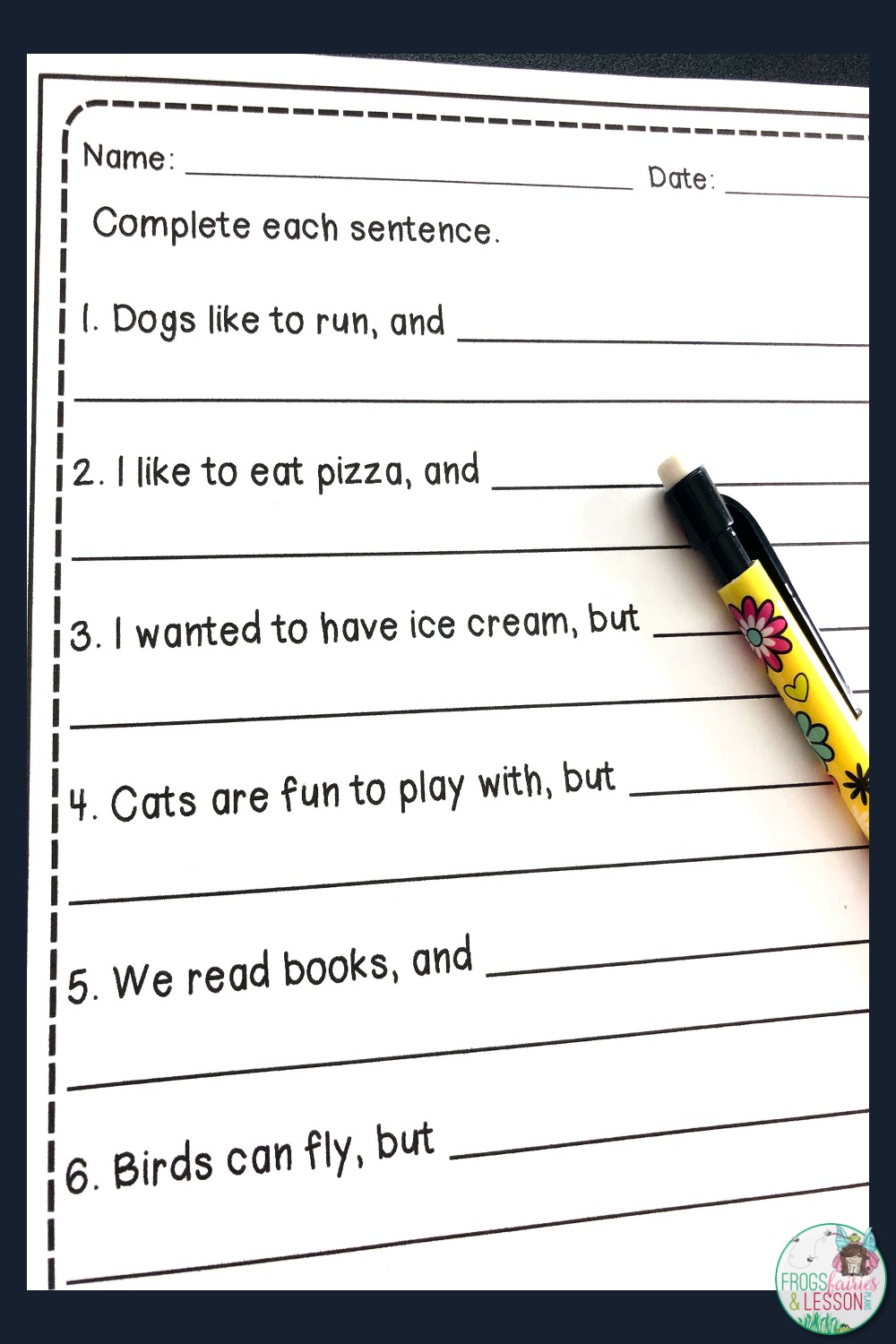 Lastly, a multiple-choice sheet gives you a quick way to assess how well your students can use the different conjunctions you taught during your unit!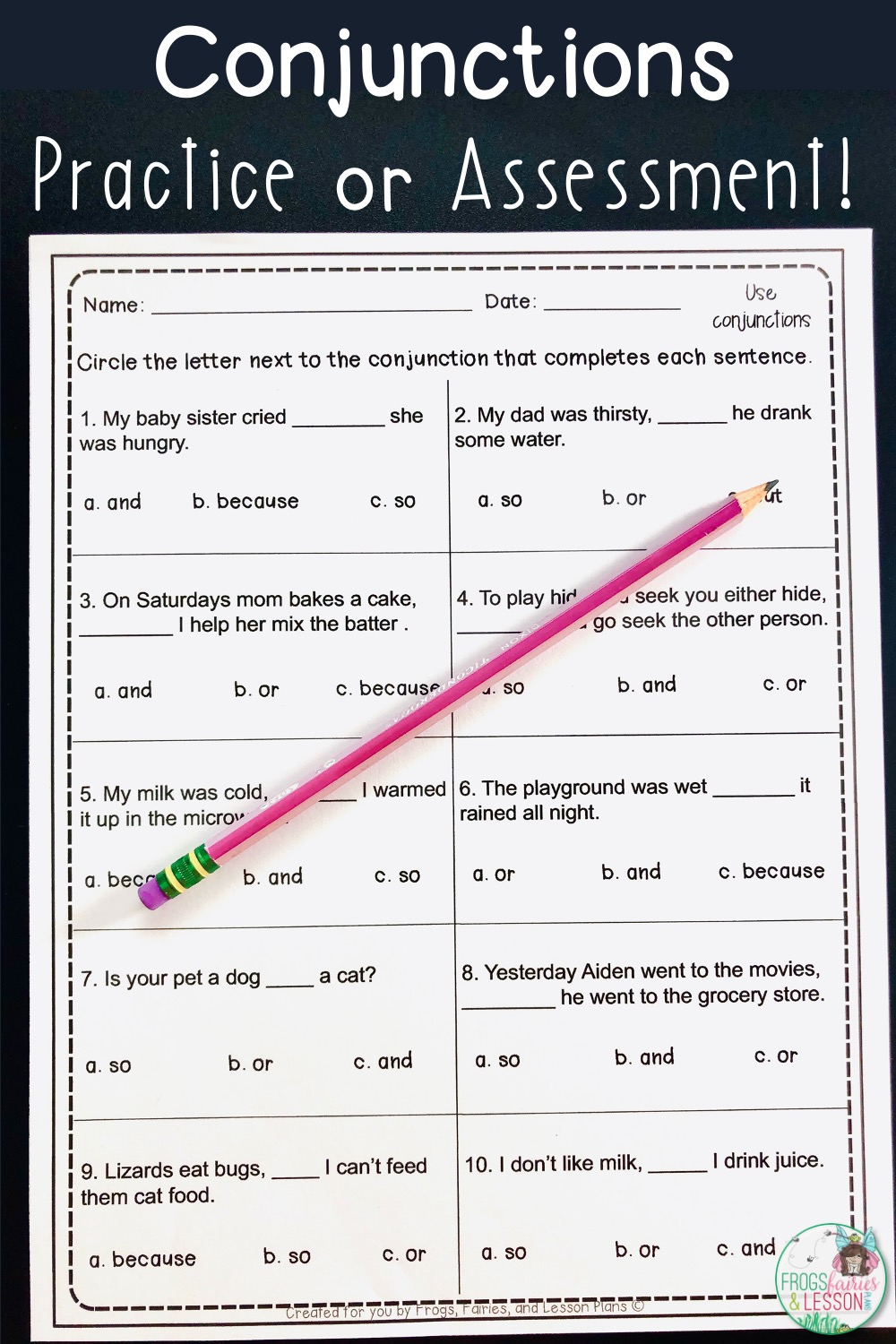 There you have it!
You can find this Conjunction Packet and other Parts of Speech packets in my TpT store. All packets include worksheets and games for your Literacy Centers.
If you are interested in my line of Parts of Speech resources, scroll down to see what's available.
1st Grade Parts of Speech Resources – Beyond Teaching Conjunctions in First Grade!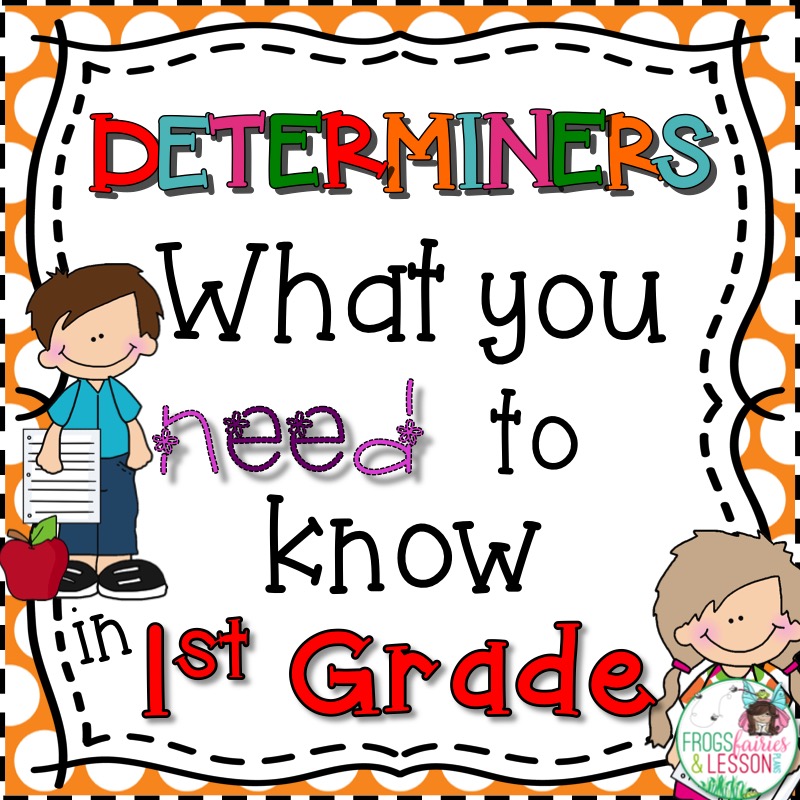 Bonus packet included in the Bundle!
2nd Grade Parts of Speech Resources – Beyond Teaching Conjunctions in First Grade!
Language Arts Spiral Review/Homework
And last but not least! Sign up for my mailing list to receive teaching tips and samples in your inbox!
Let me send you this Parts of Speech sample as a thank you!