Full disclosure: I never meant to turn this anchor chart into a center.
I guess it was another one of those things that "just happened".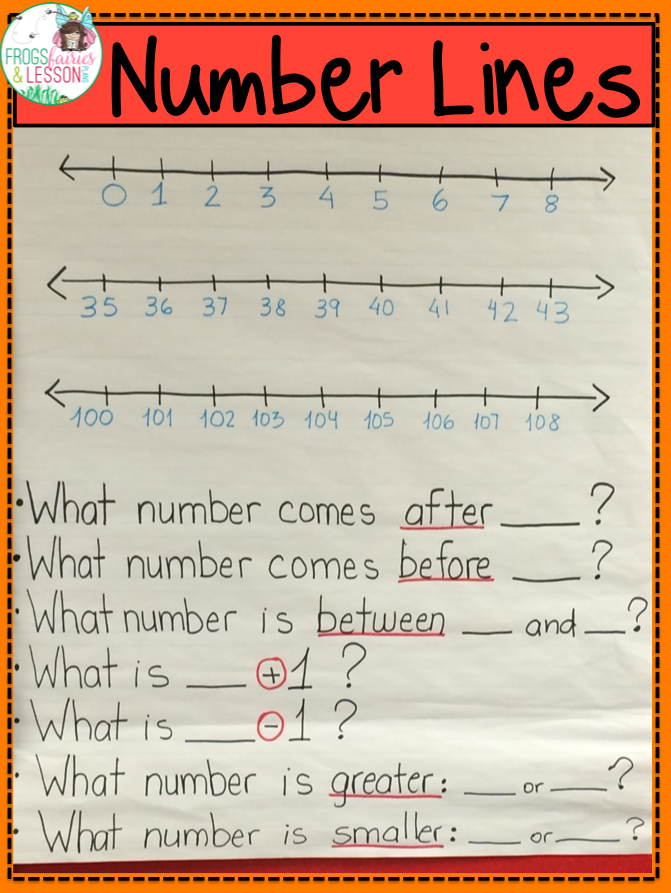 Number Lines Center
This chart was my whole week's lesson on Number Lines. I made it ahead of time, but only showed the kids a section on each day.
On Monday we practiced before and after.
On Tuesday we practiced "between".
On Wednesday we practiced "+1 and -1".
On Thursday we practiced "greater / smaller"
On Friday, we used the whole chart.
The chart stayed on the wall for a while, and we used it everyday as a warm-up during Math Workshop.
One day I ran out of time to prepare a new Math Center, and out of despair, I decided to use the chart!
The kids had already used it during their "Turn and Talk" practice. All I had to do was to monitor each group for a few minutes each day. I modeled the questions and answers once again, and watched the kids interact with one another. It worked like magic!
Because they had so many questions that they could choose from, the kids absolutely loved spending time at this center.
Of course we moved on to the big number line on our wall, but somehow this center never got old…
You can probably create a much nicer chart than mine, but I hope the idea helps you optimize your time. Just recycle your anchor chart into your next center!
In case you missed them, here are the 3 other posts of this series.
My Fab Five Math Centers! – Part 1
My Fab Five Math Centers! – Part 2
My Fab Five Math Centers! – Part 3
The following links go to free and paid resources that might help you implement counting skills in your classroom:
You can grab a 1st Grade FREE SAMPLE right here! (2nd Grade sample on the works)
If you want to keep this information fresh all year you can assign homework that constantly reviews learned skills. This is the homework I have in case you are interested. It's 100% Common Core aligned! There is a FREE SAMPLE available for each packet when you check the resource pages.