Every year I look forward to writing an Animal Book with my kids.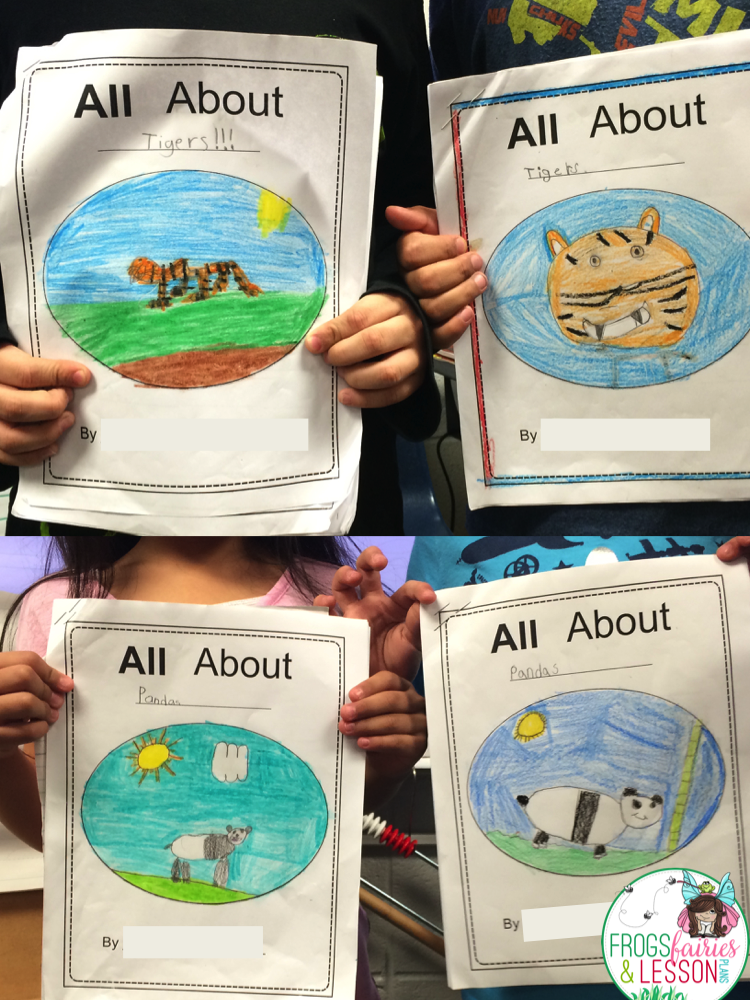 Doing so requires some planning and organization, but they always turn out great!
Here's how you can do it…
Step 1 – Get lots of books.
The first step I take before writing an Animal Book is to decide how many animals I want my kids to choose from. Then, I gather as many books about each animal as I possibly can. Consider your high and low readers when you do this.
After the kids had a chance to explore the books, they choose the animal they want to write about.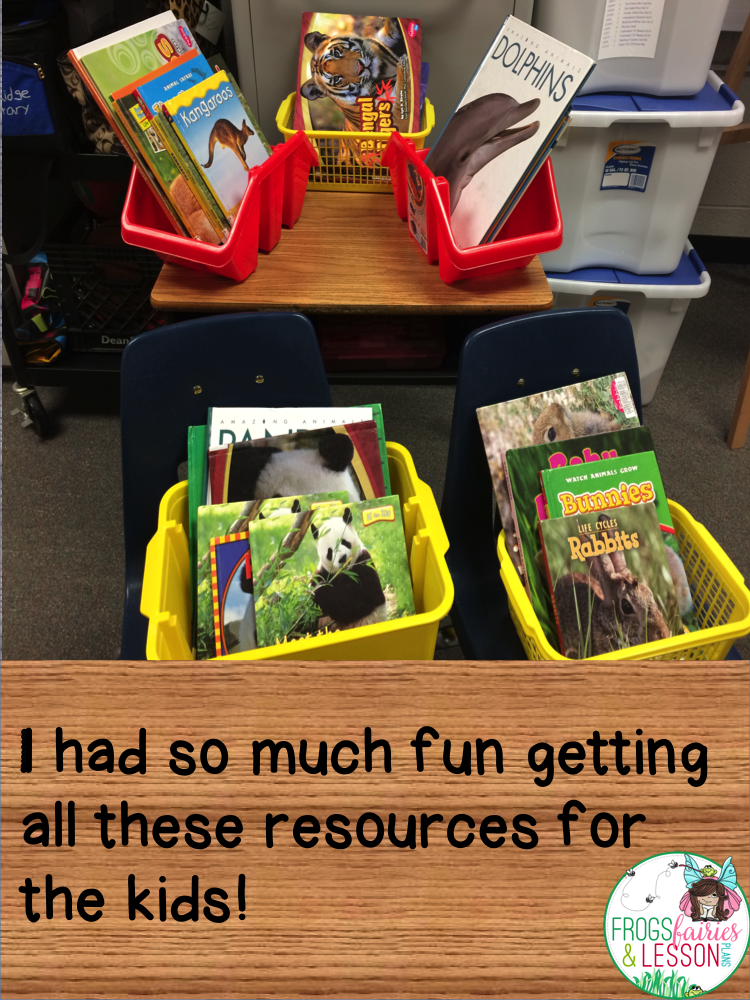 Step 2 – Write research questions with your students.
The next step is to choose an animal for our class to research together, and ask students to tell me what they want to learn about it. On my easel, I record all of the questions that the kids come up with, even the ones that don't make much sense. I like to validate their curiosity. Later, we can decide as a group which questions move on to the next step.
Then, I show them how I find information in the book. I alternate between using the table of contents to go where I want to, looking at the illustrations, or looking up a key word in the index.
I write the answer I find on a sticky note and up it goes on my easel!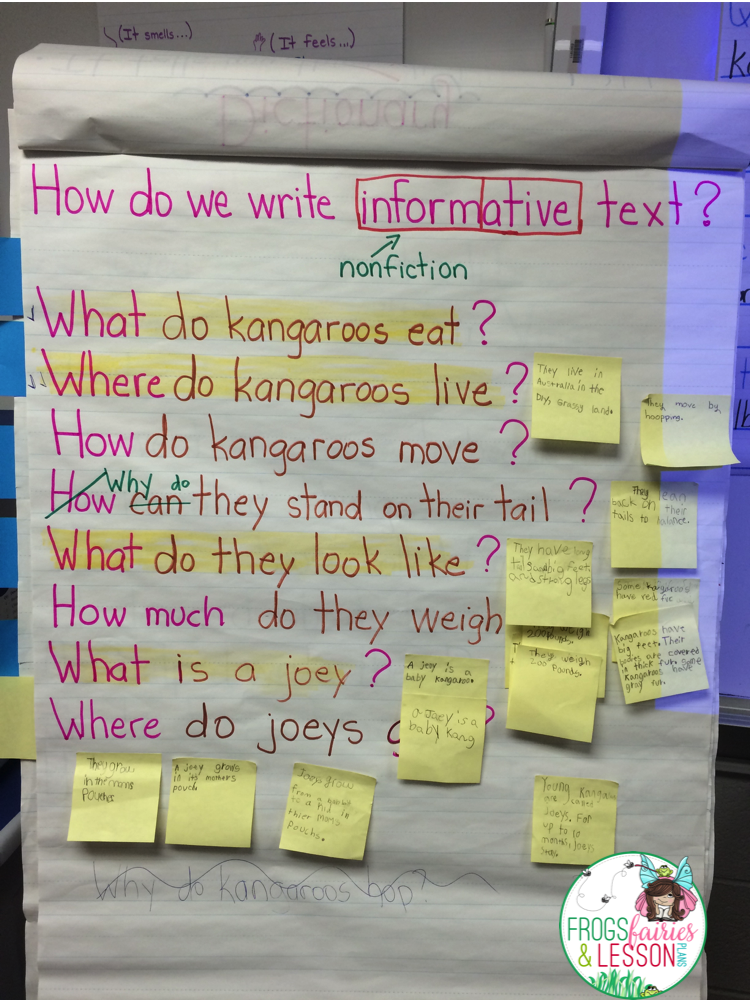 Before students work on their animal books, we write questions and research as a group.
Step 3 – Let your students research the answers.
Writing an Animal Book is all about researching! Each kid gets a buddy, a book, and a sticky note to do their own research about our animal. At the end of this lesson they place their notes next to the right question on my easel.
Step 4 – Students write research questions for

their

animal books.
After the students had a chance to do some research as a group, it's their turn to write questions about the animal they chose. I encourage them to write as many questions as they can, then I help them select about 4 solid questions for their research.
Tip: Meet your students where they are. Consider their ability levels when deciding how many questions they will be responsible for.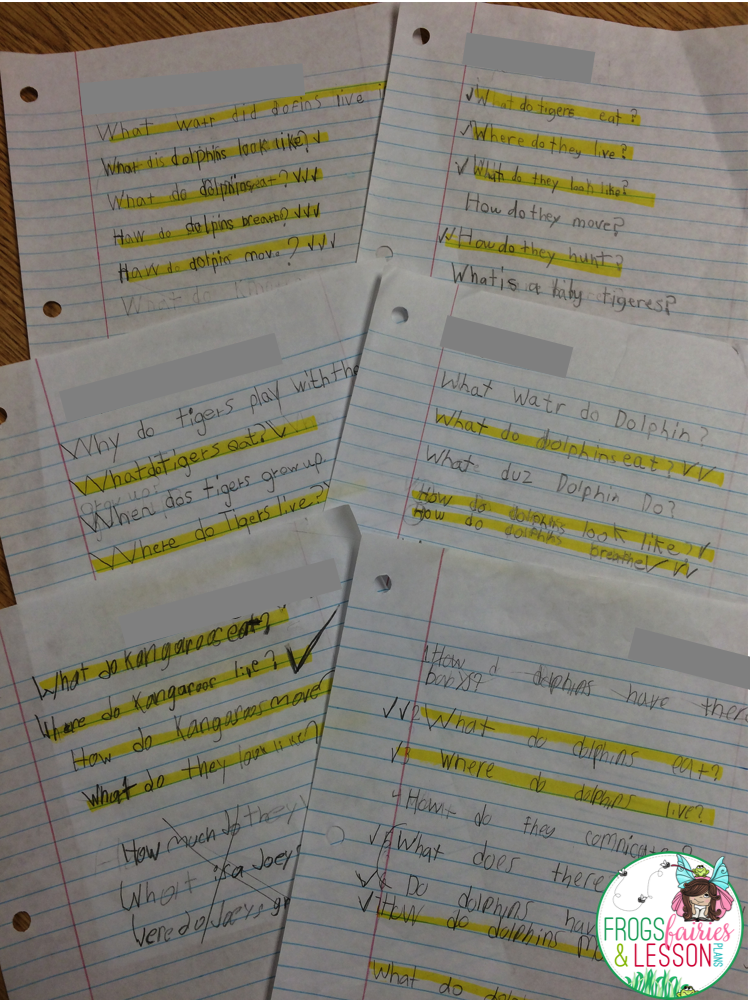 Students write their questions and I help them select the stronger ones.
Step 5 – Create research pages with your class.
When all students have their questions ready to go, I show them the next step. Each highlighted question from my chart becomes the heading of a new page. That new page is where we write the facts that we learned from our research.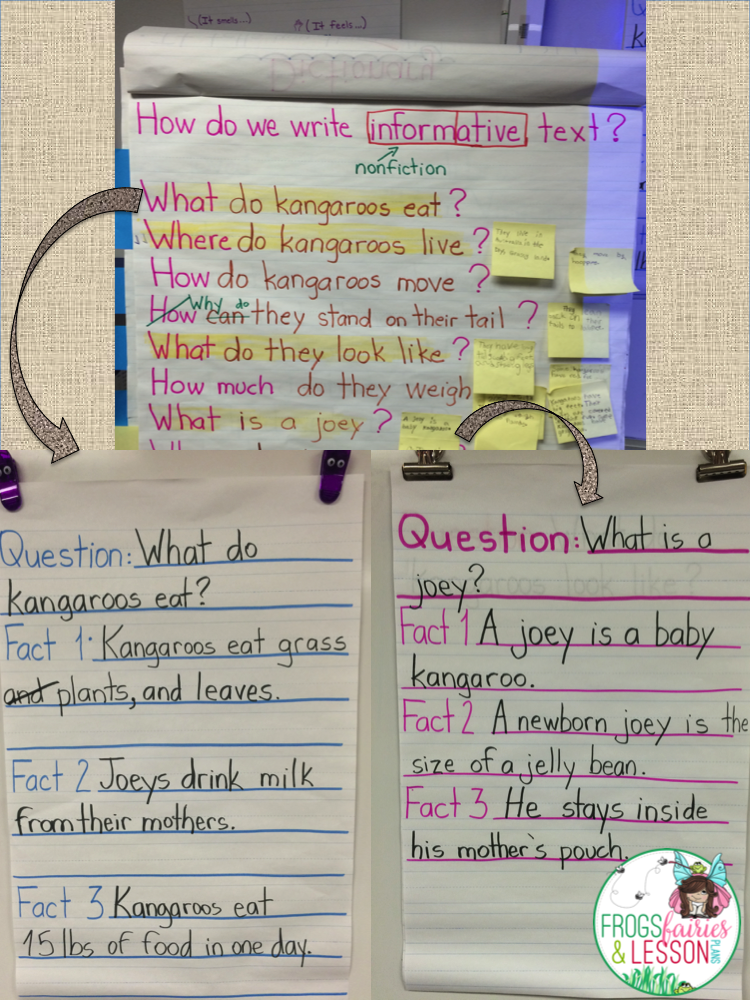 Each chosen question becomes the heading of a "Question Page".
Step 6 – Students create their research pages and look for facts.
Armed with their "Question Pages" and their books, students are given time to read and find facts. I partner up students that need support, and allow others to work on their own.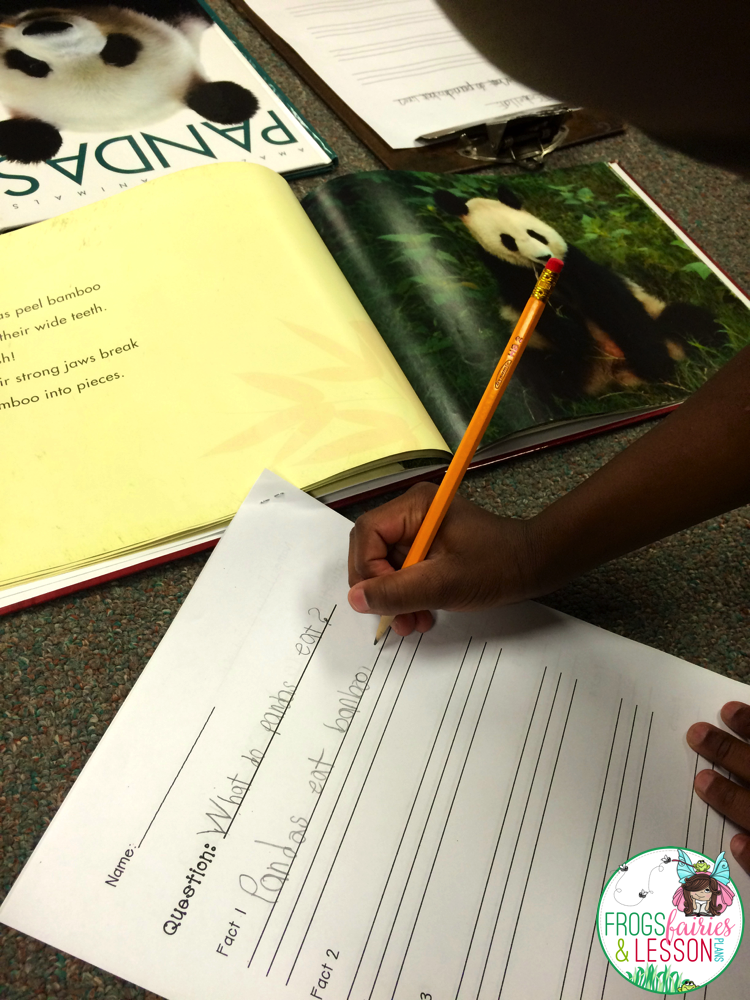 Students take their "Question Pages", their books, and research the answers.
I always have a conversation with my students about not copying words from the book. The only exception is when there is no way around it, like dolphins having blowholes and eating fish…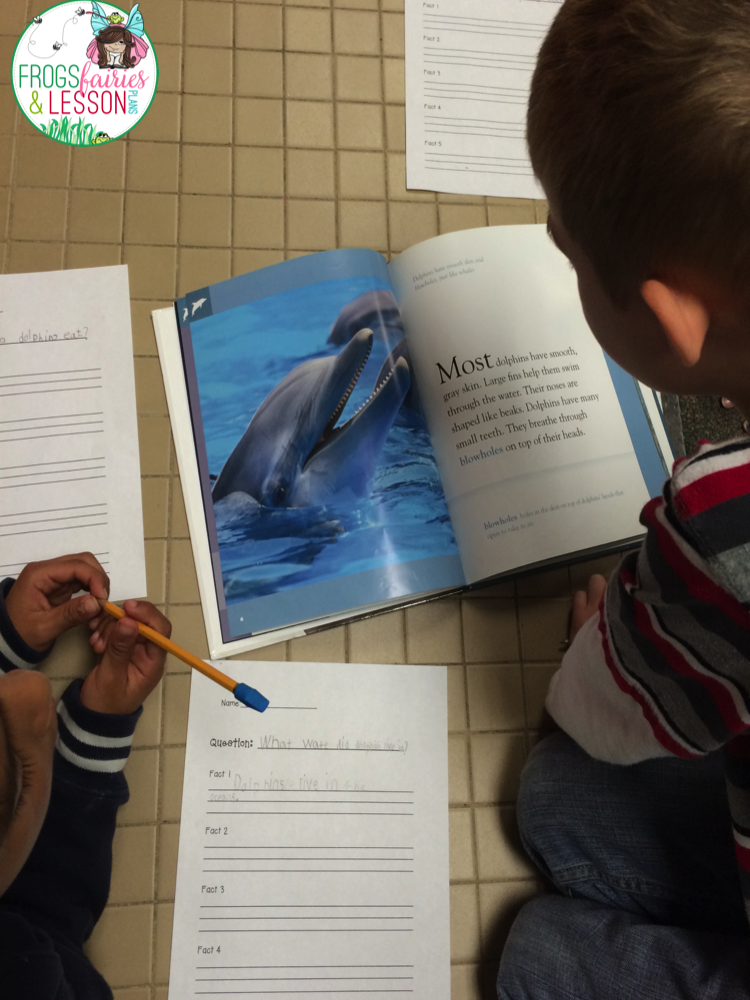 We don't copy from the book unless there is no other way to say it.
We also talk about not using words that they don't understand. They should be able to explain everything that they write down.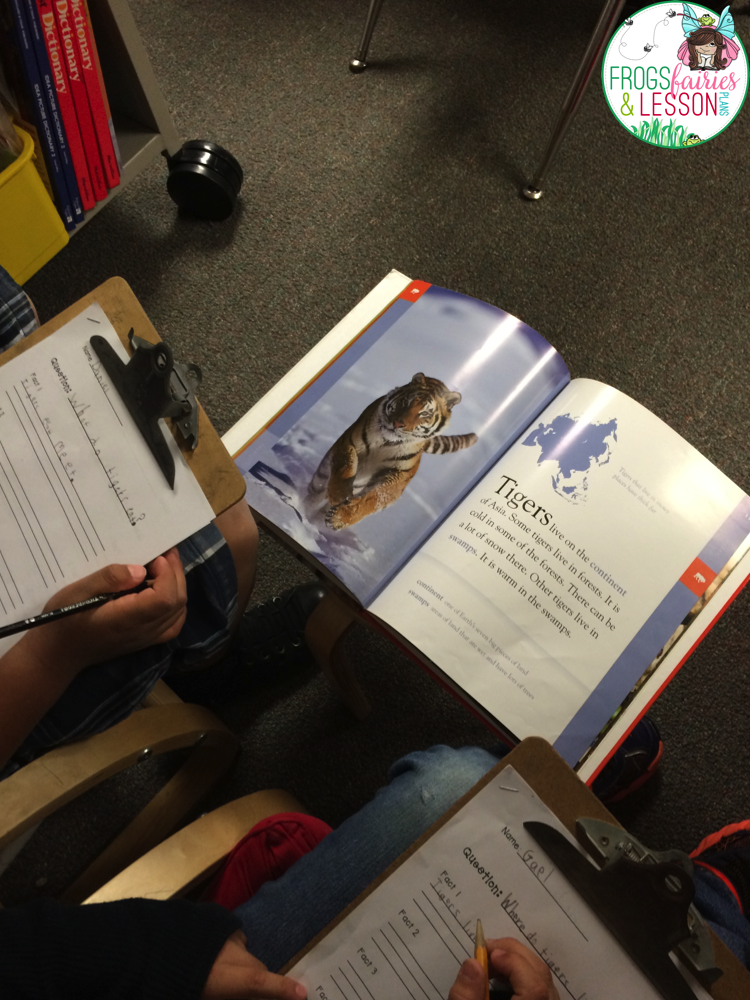 Students can only write things that they understand.
If students need help spelling, they use their Writing Folder. In it, they have the first 300 Fry words, a personal section to write words that they want to have for future reference, and some other cool things.
Step 7 – Write the facts in paragraph form and illustrate.
After many days of gathering facts and editing, it is time to start writing the books. I hand out different publishing templates based on how much information a student has to write.
I show the kids how to write paragraphs using the charts we made earlier. We talk about using transition words, "voice", great handwriting, and about making clear illustrations. Some students inevitably end up writing a list of facts. It's a learning process…
Tip: Have several copies of your favorite template ahead of time so you can hand them out as students are ready for their next page. You can also get the templates I use here.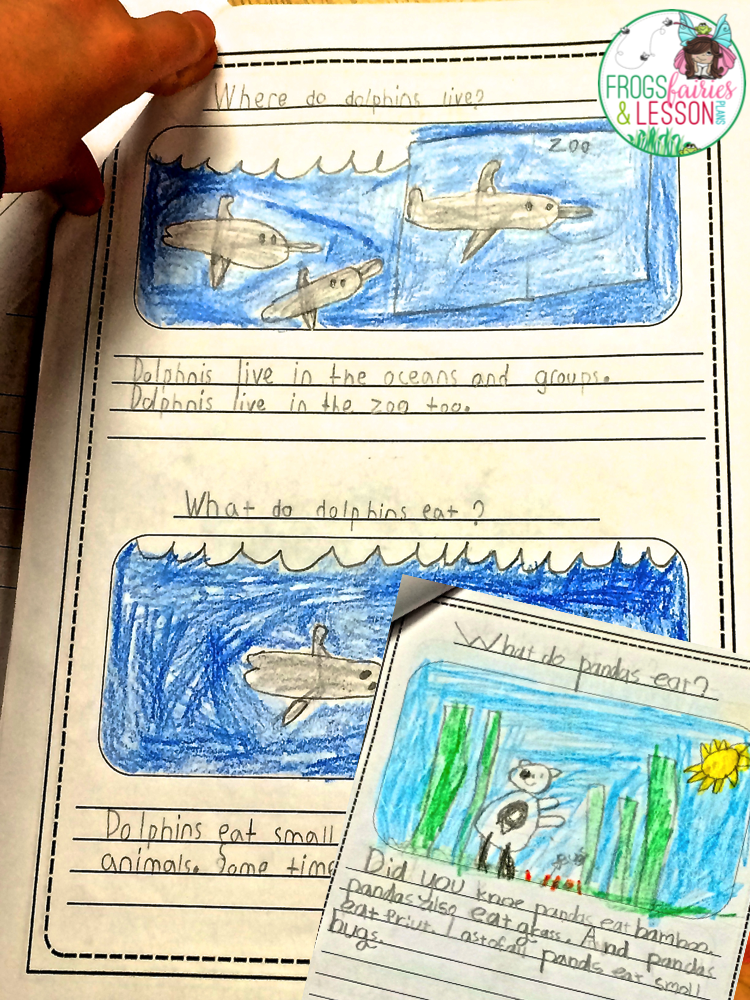 I hand out different templates depending on how much students have to write.
Step 8 – Add other nonfiction features.
The kids add lots of other features to their Animal Books. They add diagrams, a glossary, an index, a table of contents, and even a Fun Facts page.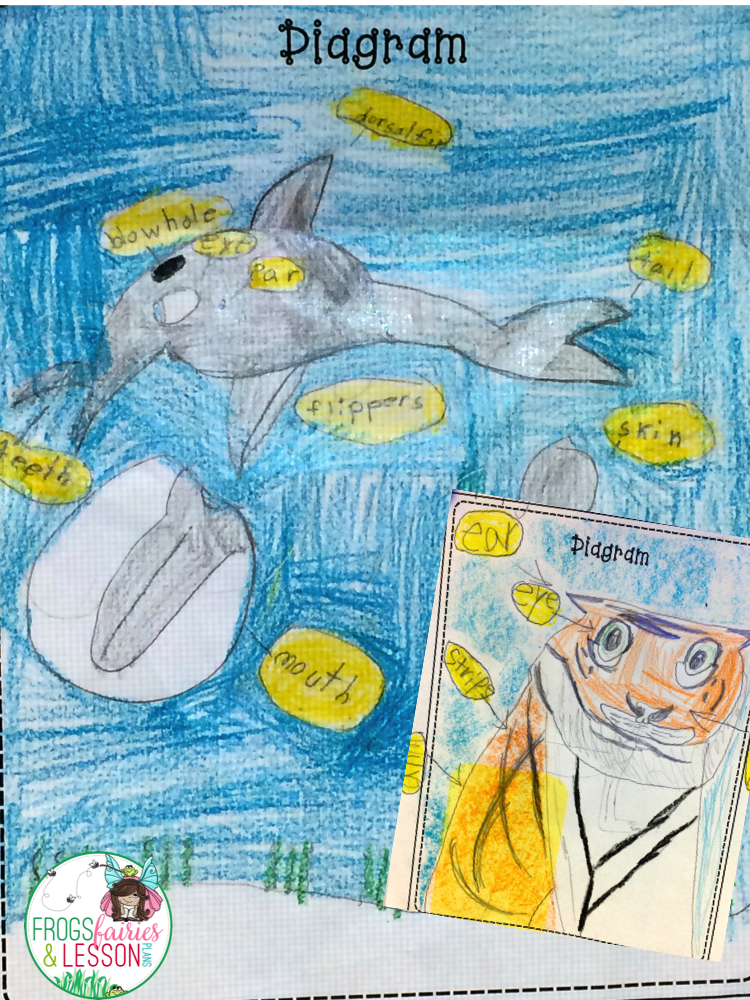 Students add diagrams and other nonfiction features to their books.
You can read more about using Nonfiction Text Features in this post.
Step 9 – Add an "About the Author" page.
The last steps for us are to write the "About the Writer" page, illustrate the cover, and get the books stapled.

Step 10 – Have a Publishing Party!
The culminating activity is a Publishing Party! You can see the pride in the young authors as they share their master pieces with each other.
Tip: Split your class into readers and listeners. Only readers can have their books in hand. Switch roles after a while. That ensures that the readers have the listeners' full attention.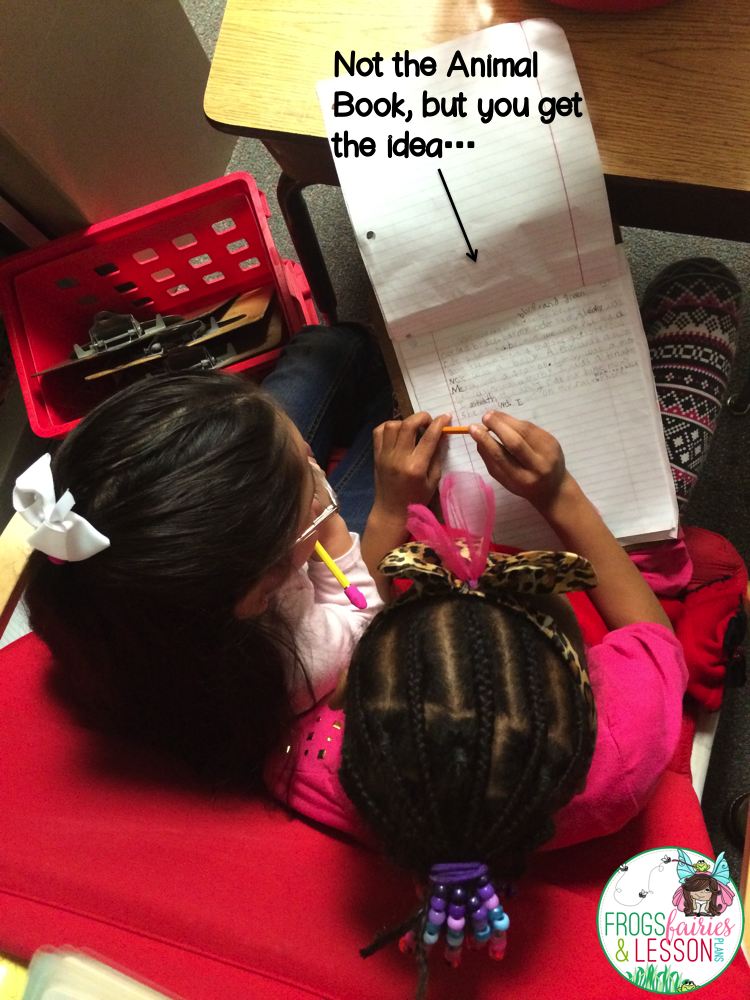 Students take turns sharing their writing with each other.
As exhausted as I am by the time this process is over, I always look forward to starting it again year after year.
PS: Since writing this post, I have changed the "questions and facts" page. They are now combined to save a step for the kids. This is what the page looks like: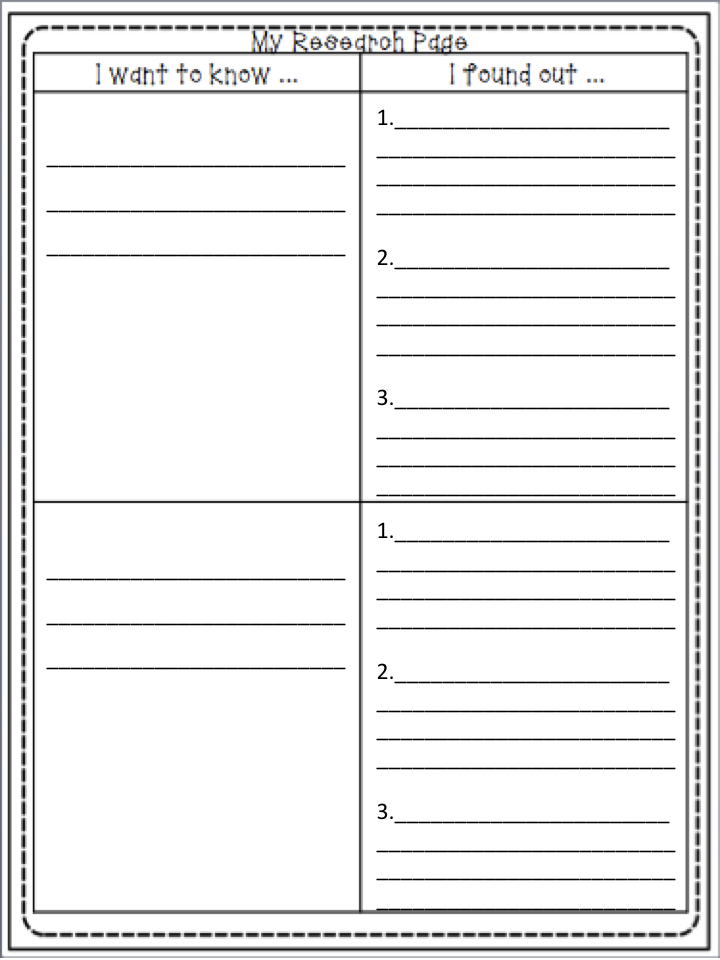 If you would like to check out the templates that I used with my students, you can do so by clicking on the links below.