Hi! Are you looking for centers that are easy to assemble? This one uses materials that you have in your classroom, and allows your students to work at their own pace!
I roll this center out in the beginning of the year, then I tweak the directions to keep the center relevant all year long!
Remember that the most important thing you can do to guarantee the success of any center is to MODEL carefully, and to MONITOR for a while before you allow your students to work on their own.
This is the 2nd of a five-post series. Links for the other posts are provided at the bottom.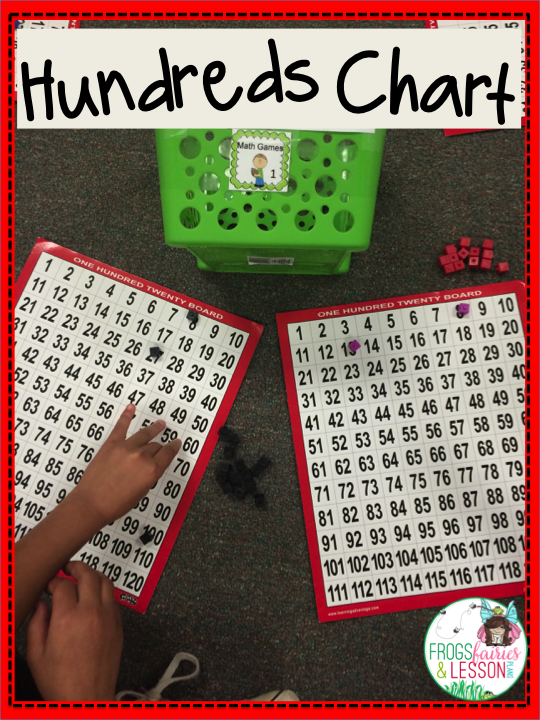 This center will take you just a few minutes to put together and will keep your students ENGAGED for a long time!
Setting it up:
Choose a tub.
Add 4 baggies with math chips or other small math counters.
Add 4 Hundreds Charts. (If they don't fit, just place them under the tub.)
Add directions. (One prompt at a time.)
Directions:
Use a visual presenter, a chart, and math chips to model.
Call a student to play with you.
Feed your student the prompt line:
"Amanda, here's what I want you to say: Find number ____."
Place your math chip on that number and say: "Amanda, find number____."
Repeat!
Have 2 students model at the visual presenter at a time until everyone understands the game clearly.
How to adapt:
Start with numbers 1 – 20, then add a new row each week.
Start with a chart that goes to 100, then change to a chart that goes to 120.
Students give the numbers outright at first, then they give a "clue" about the number.
Students use only one prompt with each other at first, then you can add several at a time.
Here are some of the prompts that I use in my classroom.
Add your own twist for year long fun!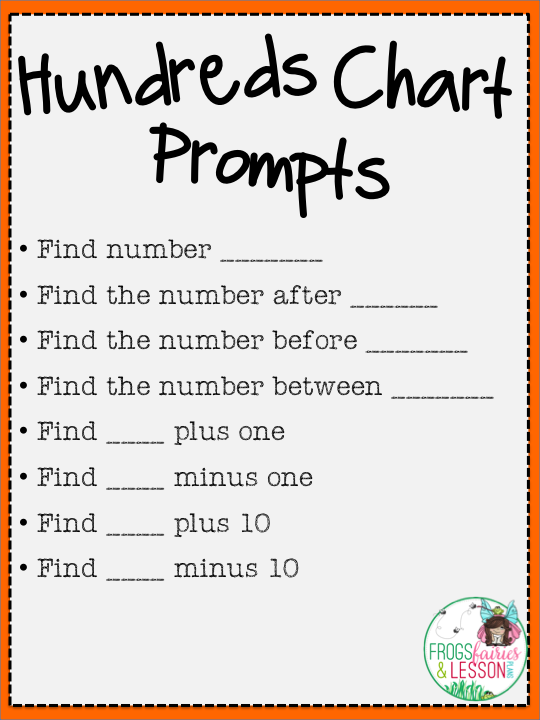 Do you have simple-but-fabulous ideas to share? Leave them here for everyone to use! I look forward to hearing from you.
If you are interested in learning more, follow my blog!
Just scroll to the top and click on the Bloglovin button on the right.
Here are the links to the other Fab Five Math Centers.
My Fab Five Math Centers! – Part 1
My Fab Five Math Centers! – Part 3
If you are looking for great Counting Practice for your students, take a look at this resource! It includes number lines, 120 charts, word problems, and assessments!
And, make sure to grab a FREE SAMPLE of it right here!
If you want to keep this information fresh all year you can assign homework that constantly reviews learned skills. This is the homework I have in case you are interested. It's 100% Common Core aligned! There is a FREE SAMPLE available for each packet when you check the resource pages.
See you next time!